Our Staff
Chris Leech

Director and Founder
Chris graduated from The University of Exeter with a degree in Applied Geophysics and Engineering Geology and has worked in the geophysics industry throughout his professional career, specialising in all forms of near surface geophysics and is current chair of the NSGG.
Outside work Chris runs marathons and races Triathlons, representing GB for his age group at the European Triathlon Championships.
Picture shows: Chris at the European Triathlon championships in Geneva, July 2015
Tom Nicols

Director and Founder
An electronic engineer by trade, Tom has also been in the industry for far too long having spent time running seismic crews in Africa Europe and the Middle East. Outside of office hours Tom is a county councillor and likes nothing more than a long cycle ride.
Picture shows: Tom completing his solo cycle across North America, that's right from West to East coast!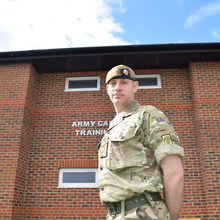 Alex Thornton

Engineering Manager
Alex joined Geomatrix in June 2003 as an electronic engineer and has since risen as the company has grown. Outside of office hours Alex is a Second Lieutenant in the Army Cadet Force, has adventures with his three young children and is often found talking about, looking at, living and breathing anything to do with motorbikes.
Picture shows: Alex receiving the Queen's Commission with Bedfordshire & Hertfordshire Army Cadet Force.
Maggie Naylor

Rental Pool Manager
Maggie joined Geomatrix in October 2002 and runs the rental pool, so if you need things shipping on time for your urgent jobs, be nice to her!
Outside of office hours Maggie enjoys classical music and treating her grandchildren.
Picture shows: Maggie tracking overseas equipment.
Matt Guy

Geophysicist
Matt completed an MSc in Archaeological Prospecting following on from a first degree in Archaeological Sciences both at The University of Bradford.
Matt is particularly keen on activities on or in water, as the photo shows he is an adept white water kayaker!
Picture shows: Matt is an adept white water kayaker!
Theo Hendry-Smith

Workshop Manager
Currently completing a HNC at Bedford College Theo manages repairs to lease pool equipment. Theo is looking forward to starting his HND.
Picture shows: Theo replacing a Caesium Vapour sensor cable.