Repairs & Servicing
Geomatrix maintains a fully equipped electronics laboratory for servicing both our own and customers equipment.
We maintain calibrated test equipment and many factory supplied test and measurement instruments so we can issue repaired equipment with certificates of conformity if required. Additionally we offer a certificate of conformity service for your own equipment, should you need it certifying prior to commencement of jobs for highly discerning clients.
Please contact our engineering department on engineering@geomatrix.co.uk for details.
Complete the Repair Form and Ship Your Equipment
If shipping equipment back to Geomatrix for repair, to enable us to offer you the fastest return time, please complete the Repair Instruction Form on this page, complete it with as much information as possible in relation to your instrument and the nature of the fault, particularly if it is intermittent.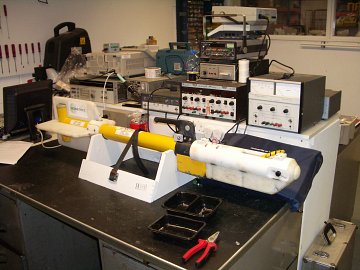 Once you have completed the form you will be sent a confirmation email, together with further instructions. Please include a copy of the confirmation email you receive in with the instrument when returned to us as this will help us deal with your repair much more efficiently.
Return shipment will be arranged by Geomatrix Earth Science Ltd on a standard overnight delivery and charged at the prevailing rate.
Equipment will be returned in the same packaging as it was received, please ensure to send the equipment in appropriate packaging, this will typically be the transit case the instrument was originally supplied with.
Charges and Guarantees
Geomatrix labour rate is £125.00 per hour with a non-refundable £400 for evaluation. In order to speed up the repair process we may spend up to 25% of the instrument's commercial value without approval. For further work, we will contact the Owner with an estimate of costs and seek further instruction.
Geomatrix requires payment to be completed before the repaired equipment is released. In some instances an up-front credit card payment may be required with a supplementary invoice to follow upon completion of the repair. We will notify you if this is required.
Work carried out to repair the fault, as detailed above is guaranteed against further failure for a period of 3 months from date of repair. Such warranty covers any parts used and labour. If the instrument fails for any other reason, I.e. not related to the failure as detailed above, within this warranty period, the subsequent repair will not be covered by this guarantee.
Depending on the complexity of the fault, and availability of parts, please allow up to 6-8 weeks for completion.
Contact us if you need any assistance
If you need any assistance then please give us a call, we are always willing to help you if you have any questions.