Geometrics release a new Seismograph - the ATOM
18 December 2017
The ATOM introduces a new style of seismograph to the Geometrics Inc range. As a stand-a-lone seismograph each Acquisition Unit (AU) is a complete recording system providing total flexibility over the number of data acquisition channels. Containing an internal battery, high accuracy GPS clock and 4 GB memory the ATOM can be deployed for up to 70 hours of continual data acquisition before recharge. For longer monitoring projects the addition of a small 5V solar panel permits data acquisition to be extended to up to 23 days with the 4GB standard internal memory; or 186 days with the optional 32GB extended memory.
No compromises have been made in terms of the performance of the system; offering up to 0.25ms sample rate the bandwidth of the system is 1.5kHz to 1650kHz with 128dB 24bit dynamic range.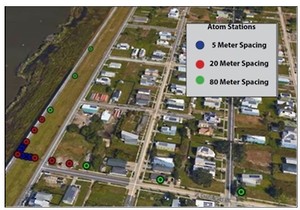 Operating the instrument couldn't be easier. Users turn the boxes on by shaking them. The box will automatically begin recording as soon as it achieves GPS lock. LEDs inform the operator of the battery status, network state, GPS time lock and geophone connection. Data is retrievable via WiFi and a laptop.
When combined with the semi-automatous SeisImager Passive Wave processing software the system is ideally suited for obtaining shear wave velocity measurements to depth up to 1km.
Compatible with any standard geophone the ATOM offers flexibility where many other similar systems don't. A version of the ATOM with 3 measurement channels will soon hit the market; changing the face of how shallow 3 component data acquisition for geological engineering is conducted.
For further information about the ATOM seismograph please feel free to contact us through our enquiry form. Alternatively sign-up to our newsletter and we will keep you informed about all the latest instrument developments.