Borehole Logging

Drill/ well logs are required in most civil engineering, hydrogeological, geological and petrophysical projects in order to supplement preliminary desk studies and obtain numerical, groundwater and lithological characteristics of the borehole. However, the information that these logs provide is limited and additional information is needed to better understand subsurface changes, including how groundwater fluctuates over time. Logging geophysics can be used to temporally monitor a borehole site, without disrupting the surface further (e.g. the petrophysical response of the well can be measured and the quality, temperature and pressure of the fluids, groundwater flow and migration pathways can be evaluated).
Geophysical methods such as resistivity, magnetics and radiometry can be used to dimensionally scan the borehole and obtain measurements that supplement the numerical calculations made within preliminary tests, which may indicate the geological composition, environmental impact and stability of the site and whether groundwater well sites are at risk. Furthermore, these profiles can be combined with near surface 2D geophysical profiles to enhance the cross-correlation of data, providing additional information about the construction of the wells and any change in its character over a length of time.
Mount Sopris have designed both stand alone and Quick link sondes which enable the user to collect multiple geophysical (i.e. resistivity, magnetic and radiometric datasets) and mechanical measurements within the borehole, by combining probe sub-sections. Using the borehole logging equipment as shown in Fig. 1 (i.e. Logger, Winch, Borehole probe), continuous point measurements can be obtained in digital format and related to the physical and chemical properties of the lithological formations, as a function of depth.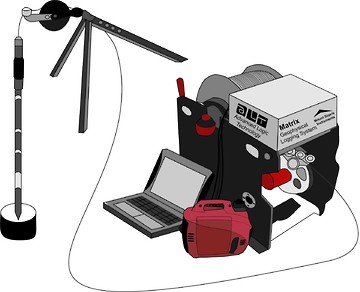 To operate the borehole sondes, you must assemble the equipment (Figs 1 and 2) must be fully trained, before collecting any data. The data can then be acquired using a portable logger, (either the Scout or Matrix logger) which is connected to a Getac laptop which has the Logger Suite and WellCAD software downloaded. These are then connected using a network cable to the winch and the borehole Sonde via a single core conductor cable (which has a depth encoder attached) plus a cable to cable stainless steel head (found at the top of the probe). All of this equipment must be powered off an inverter and can be controlled by a voltage regulator.
Enclosed within each of the borehole sondes are the source, detectors, power supply and electronics for transmitting/receiving the electronic signals (i.e 360° from the probe axis). These are designed for complete isolation, transmission and to withstand high pressure/ temperature conditions.