Syscal Terra

from Iris Instruments
The Syscal Terra is the new generation and redesigned model of the Syscal Electrical resistivity meters. Its lightweight, modern and robust design makes it ideal for use in the field for easy data acquisition and deployment. The high power (up to 10000 V) unit has a large built in colour touchscreen display along with the manual keypad, for easier menu navigation and data visualisation. There is an option to upload your sequence files generated in elecre pro via a USB pen drive or over WIFI which promotes simpler acquisition and reduces time spent setting up the acquisition parameters in the field.
The system uses 20 measurement channels, enabling faster runtimes to acquire Resistivity and Induced Polarisation (IP) data with improved resolution at deeper penetration depths; Both the IP and the resistivity measurements are collected in the "On time" injection cycle reducing the sampling time. Multiple Wenner-Schlumberger reciprocal or dipole-dipole configurations can be measured with the unit, useful when acquiring 3D datasets.
The system also enables the user to run a full waveform analysis during the whole injection cycle which helps reduce noise and can enable time and frequency domain analysis, with the IP data (needs the Full waveform module enabled). The timeseries analysis also allows the user to record the voltage and current in order to determine the phase shift on important harmonic frequencies.
The unit runs on Li batteries which are stored in a lower compartment on the unit and can be easily removed, ideal for when transporting the goods internationally/ by courier. The LI batteries can then be stored in cabin baggage during transport, alternatively, both the Tx and Rx can be powered by external batteries in the field (12V car batteries).
The unit also enables the user to check system functionality with built in test procedures and test plugs to check the Rx, Tx, Switching boards and test the external battery.
The Terra can communicate/connect to other Terra units over WIFI, enabling the user to purchase/rent multiple units in to acquire data over vast distances. If there is an obstruction in your surveying area such as a road or river, each terra unit with their imaging cables can be laid out either side of the obstruction and set to record data under one unique sequence, one unit is injecting whilst the other units are measuring (connected via WIFI).
As with all Syscal systems the data can be quality checked and filtered using Prosys III before being post processed in a software package such as Res2DInv or Res3DInv.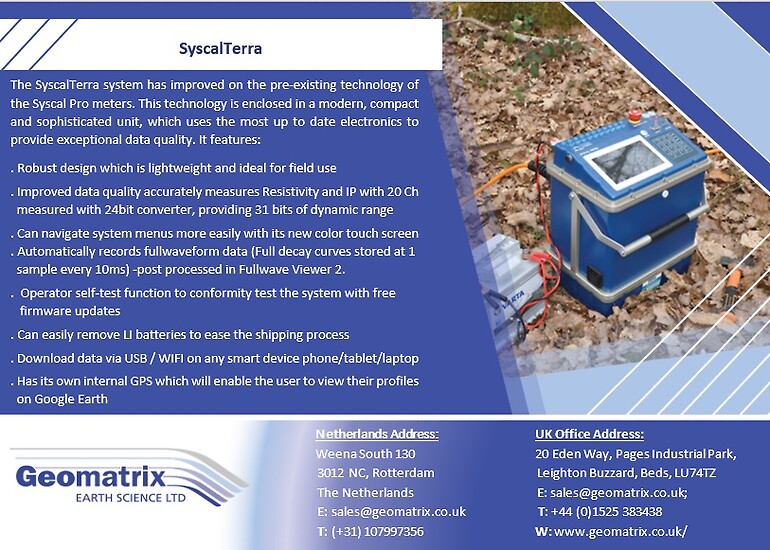 Product Dimensions
| Physical | Dimensions (L x W x H) | Weight |
| --- | --- | --- |
| Syscal Terra (instrument only) | 45 cm x 37 cm x 24 cm | 14.7 kg |
Technical Specifications
| | |
| --- | --- |
| GPS: | UTM Coordinates, Internal GPS |
| Memory and Temperature Range: | 2Gb and USB ports for external memory (1Tb) ; -20°C to +70°C |
| Sequence Files: | Imported directly to the Unit Via USB/ PC connection in Electre Pro or created in the Syscal |
| Screen: | 7 inches [480 x 800] colour touch screen (can be deactivated if required) |
| Fullwave mode recording and Monitoring: | Can record up to 100Hz fullwave form timeseries (voltage) in the background; Can use the system in monitoring mode and controlled by scripts in the FTP server |
| Rx Mode (Only): | It is possible to have the unit in the receiver mode for use with an External Transmitter |
| Dynamic Acquisition, Master/ Slave and Multi-Syscal mode: | Can use the system for terrestrial or Aquatic Environments (continuous resistivity and IP measurements); Multiple units can be connected together to make a 192 electrode system (2 x 96 electrode system) and they can measure synchronously on the same sequence based on their GPS clock |
| Rx Firmware Update: | New updates can be installed and run by the user |
| Batteries: | Li batteries (4 x 96 Wh), if an external battery is plugged in instead the unit automatically recognises it as an external unit. |
| Data Download: | WIFI connection via a web browser or via USB |
| Quality Control; Compatibility: | QC on resistivity and chargeablility (stacked 1 sample every 10ms); Can operate with a Syscal Switch Pro (10ch only) |
| Display: | Can View the real-time pseudosection of the data on demand |
| Tx Max Voltage, Power and Current: | 800V in Switch mode and 1000 V in standard mode, 250W/1200W with an external AC/DC converter; 2.5 Amp |
| Tx Regulation and Type of Injection: | Current/Voltage regulation, Constant Vab,Iab and adapted to reception voltage |
| Rx Measurement channels: | 20ch galvanically isolated |
| Rx AD converter/Dynamic Range and Imput Impedance: | 24 bits/ 31 bits; 100MOhm |
| Rx Maximum voltage and Input Protection: | 15V on Channel 1 & 15 V on the sum of channel 2 to 20; 1000V |
| Rx Filter and Gain: | Low pass -10Hz +Notch 50Hz, Low pass -10Hz + Notch 60Hz, Low pass 256H, Low Pass 512 Hz; Automatic gain input voltage |
| Rx resolution, accuracy and IP windows/ measurement: | 1µV; 0.2%; 20 windows with the possibility to export the decay curve at 1 sample every 10ms; 100% or 50% duty |
Shipping
Contents
Dimensions (L x W x H)
Weight
1 x Transit Case
Syscal Terra and Accessories including Clip leads
38 cm x 30 cm x 58 cm
27 kg
1 x Small Pallet
4 x Resistivity Imaging Cables on Reels
81 cm x 55 cm x 68 cm
100 kg (total weight, approx. 30kg each reel)
2 x Small Transit Cases
Stainless Steel Electrodes
25 cm x 11 cm x 39 cm (each)
46kg (total weight, 23kg for each case)
Shipping Notes:
For international shipments we will ship without any LI batteries