D230A UAV Gamma Ray Spectrometer

from Terraplus
The D230A is a compact lightweight self-contained gamma ray spectrometer for UAV integration. Designed with exploration in mind the D230A can be used to measure the total gamma ray intensity across landscapes for geological mapping.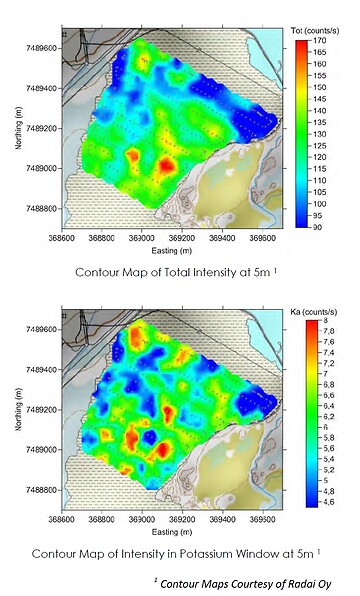 The D230A can can be supplied with a variety of Bismuth Germanate (BGO) or Sodium Iodide (NaI) detector volumes to meet the requirements of the user. For smaller UAVs with a limited payload a single detector system can be provided to reduce the weight of the instrument, conversely larger hybrid UAVs can support all four detectors. A larger detector volume results in higher gamma interactions contributing directly to measurement fidelity, and also provides additional flexibility when planning a survey. An inverse relationship exists between the number of Gamma ray interactions recorded and distance from the gamma source therefore an initial pass at a greater height/speed can be completed in order to quickly identify areas of interest using the total count/dose rate data. Then, in order to gather better spectra in these areas of interest, a second pass at a lower height/speed can be preformed to optimise the survey time. Depending on the underlying geological formation, it is sometimes feasible to acquire count/does rate data from an altitude of around 30m and then follow up with a focused spectra survey at an altitude of round 3-5m.
The D230A samples at a rate of 1 measurement per second and, for each measurement, the system records 1024 channels of spectra. Spectra are recorded separately for each detector and an accumulated spectra is also generated, which is the sum of the spectra from all detectors. The dose rate is computed from the sum of spectra. Given that the output from each individual detector is available, users have full freedom to perform different evaluation methods on the data during post-processing.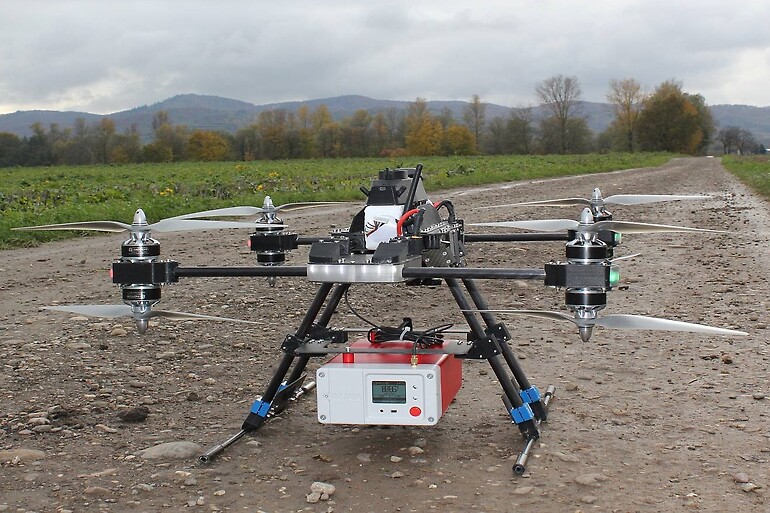 The optional telemetric module allows for the real-time transmission of data, including spectra, dose rate, elevation, atmospheric pressure, and GPS position. The D230A also records data onto an internal 32 GB SD card with a standard storage capacity of 40,000 full spectra samples. The memory size is upgradeable to record additional records.
Product Dimensions
| Physical | Dimensions (L x W x H) | Weight |
| --- | --- | --- |
| D230A UAV Gamma Ray Spectrometer (instrument only) | 145mm x 78mm x 260mm | 3.5kg (dual detector) |
Technical Specifications
Detector:
2 x BGO - 104cm³, with bi-alkal PMT Sensitivity 2 x 160cps / MBq/m (Cs-137). Resolution max 11.5% FWHM (661keV)
or
2 x NaI/TI, 104cm³, with bi-alkal PMT. Resolution max 8% FWHM (661keV)
Spectrometer:
Full Digital 2 x 1024 channel, 40MHz DSP, Linear Energy corrected, Pile-up rejecter, 200n resolution, Max throughout 250,000 cps per detector.
Sampling Rate:
User selectable, minimum 1 per second
Energy Range:
25keV-3000keV
Dose Rate:
Fully energy compensated (from 30 keV – 1,500 keV), linear up to 100 micro Sv/h, Complies with IEC 60486-1, Sensitivity 1 nSv/hr
Display:
LCD 2 x 20 characters
Control:
Single button operation
Data Storage:
32GB. Min 2 x 20,000 samples with full spectra, including GPS coordinates, Stabilisation spectra and system messaged log. sufficient to hold a full days survey data. Memory size can be extended.
GPS:
Navigate down to -162dBm and -148dBm coldstart, precision 2m
Communication:
Data transfer, remote control and diagnostic by USB 2.0
Power:
Rechargeable Li-Ion 7.2V/2200 mAh- minimum 4 hours operation at 20 degrees C.External charger and battery pack.
Temperature Range:
-10 degrees C to 50 degrees C.
Dust and Water:
IP-40 not dust or water resistant
Application Notes
Mineral Exploration

Radiometrics can be used to detect and delineate mineral deposits directly (uranium) or indirectly by association (rare earth elements, gold, copper, etc.) via thorium or potassium alterations.
Environmental

Radiometrics can be used in environmental investigations to identify the presence of radioactive material, measure radiation levels (including dose rate), and make assessments of its impact. Examples include the monitoring of uranium tailing ponds, decommissioning of nuclear facilities and uranium mines, and health physics.
Industrial

Manufacturers use radioisotopes as tracers to monitor and inspect the integrity of industrial processes, from leak detection to the corrosion of process equipment. Small concentrations of short-lived isotopes can be detected with the use of radiometrics.