Buffalo Gun

from Geomatrix
The Buffalo gun is an excellent seismic source for shallow seismic surveys. A big problem for shallow seismic surveys for reflection or refraction studies is that the very near surface is a highly absorbing layer, especially for high frequencies. If you can position your energy source below this commonly unconsolidated layer, then your seismic signature will be improved dramatically.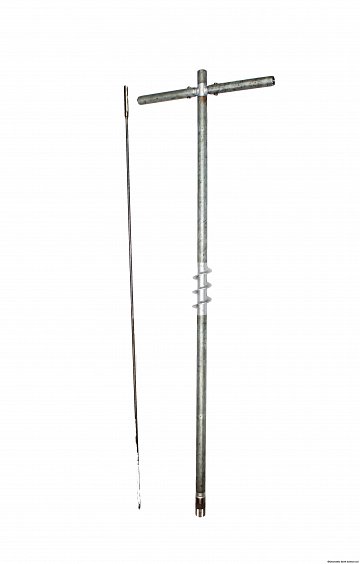 The Buffalo gun provides an ideal way to do this, as it enables you to trigger a regular, blank 12 gauge shotgun cartridge at a shallow depth, but below the high absorption layer To operate, a shallow hole is augered to a depth of 0.75 to 1m. The Buffalo gun loaded with the blank cartridge and is lowered into this hole. When in place the firing pin is loaded into the gun as it is only at this point that it is safe to do so. The gun is triggered by simply hitting the end of the firing pin with a small hammer. The seismograph is triggered by the use of a regular hammer switch attached to the cross handle of the gun. A small auger flight on the shaft of the gun both helps prevent recoil and stop stray debris from flying up out of the shot hole. The resulting shot signature is repeatable throughout the day and can give energy equivalent to 10 sledge hammer blows on the surface.
Product Dimensions
| Physical | Dimensions (L x W x H) | Weight |
| --- | --- | --- |
| Buffalo Gun (instrument only) | 8cm x 8cm x 160cm | 15kg |
Technical Specifications
| | |
| --- | --- |
| Gauge: | Regular 12 gauge blank shot gun cartridges. |
| Seimograph Trigger: | Standard Pezo electric impact trigger (Hammer trigger). |
| Material: | Steel. |
| Shot hole: | 4cm diameter. |
Shipping
Contents
Dimensions (L x W x H)
Weight
Case1
Buffalo Gun and firing Pin
50cm x 8cm x 175cm
18kg
Shipping Notes:
Customers have to supply 12 gauge blank shotgun cartridges.