IPG 5000 Downhole Source

from Geotomagraphie
The basic seismic crosshole source equipment consists of the electric surge generator IPG 5000 and the remote control unit RCU controlling the surge generator together with a downhole cable ending in a common source adapter CSA. Various seismic sparker sources can be connected to the CSA, typically a SBS42 (P-Wave) or BIS-SH (SH-Wave) probes. Triggering of the seismic acquisition system is performed by the remote unit.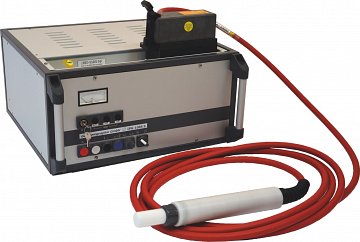 The impulse generator delivers short electrical impulses of an energy up to about 1000 J by means of a high voltage condenser bank, charged with a voltage of up to 5 kV.
The SBS42 P-Wave sparker probe must be operated in water filled boreholes and at a minimum depth of 1m. Whilst the BIS-SH SH-Wave sparker probe is capable operate in both dry and water filled boreholes.
The repetition rate of the system is between 4-7s depending on how long the power supply take to charge the condenser bank.
The Remote control unit RCU converts the reference signal of the surge generator to a trigger signal. Sparker pulses are released through manual or automatic triggering of the generator by the remote unit. The background noise can be recorded automatically and used to interrupt data acquisition if the noise level is too high.
Product Dimensions
| Physical | Dimensions (L x W x H) | Weight |
| --- | --- | --- |
| IPG 5000 Downhole Source (instrument only) | 52cm x 25cm x 50cm | 52kg |
Technical Specifications
| | |
| --- | --- |
| IPG 1005: | - |
| Impulse Voltage: | 5kV. |
| Impulse Energy: | 1000J. |
| Repetition Rate: | 4 - 7s. |
| Power Supply: | 230V, 50Hz, 2.5A. |
| Triggering: | Manual or Continuous. |
| Safety: | Emergency OFF button & Safety key lock. |
| BIS-SH: | - |
| Waves Generated: | Horizontal Shear (SH) waves and P-Waves |
| BIS-SH source diameter: | 65mm |
| Maximum Borehole diameter: | 12cm (5") |
| Housing: | Stainless Steel |
| Maximum Operational Depth: | 65m |
| Frequencies: | Up to 4kHz. |
| Clamping: | Pneumatic bladder. |
| Rotation: | Via borehole cable. |
| SBS42: | - |
| Waves Generated: | P-Waves |
| Housing: | Stainless Steel |
| SBS42 source diameter: | 45mm |
| Maximum Borehole diameter: | 12cm (5") |
| Frequencies: | Up to 5kHz. |
| Maximum Operational Depth: | 100m |
Shipping
Contents
Dimensions (L x W x H)
Weight
Case 1
IPG 1005 Unit
64cm x 64cm x 64cm
83kg
Case 2
Voltage Stabiliser
62cm x 51cm x 35cm
34kg
Case 3
SBS42 (P-Wave source)
106cm x 68cm x 40cm
75kg
Reel 1
BIS-SH (SH-Wave source)
70cm x 70cm x 47cm
65kg
Case 4
Workbench & Roller
80cm x 74cm x 40cm
68kg
Shipping Notes:
All equipment will be shipped on two pallets (aprox 145cmx120cmx100cm 200kg each)