HVB-1 Trigger

from Geometrics
The seismic timer is used to simultaneously set-off a single seismic-quality blasting cap (seismic source of energy) and to trigger the seismograph to start recording at exactly the same time.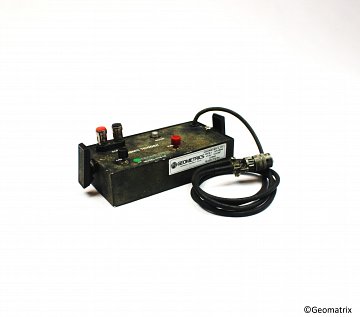 By connecting to both the cap and the seismograph, the timer acts as the interface between the two. The seismograph is connected to the timer by the built-in cable. To connect the cap, one end of the blaster cord (example segment shown on left above) is inserted into the locking posts on the timer and the other end is wired to the cap.
The timer has a potential of 200 V at 100 microfarad capacitance. It may be used for shot lines up to 300 m long and the allowable distance from the seismograph is 500 m (actual distances dependent on ambient site conditions). Requires separately purchased blaster cord and, if needed, trigger extension cable to increase distance from seismograph.
Features
Fires a single cap up to 300 meters away; can be up to 500 m from seismograph.

Monitors shot line impedance, triggers seismograph when cap goes off.

Engineered for rugged field use.

Powered by 4 AA batteries. Delivers 200 V at 100 microfarads.

Compact and lightweight.
Product Dimensions
| Physical | Dimensions (L x W x H) | Weight |
| --- | --- | --- |
| HVB-1 Trigger (instrument only) | 15.2cm x 7.6cm x 5.1cm | 1kg |
Technical Specifications
| | |
| --- | --- |
| Power: | 4 AA batteries. |
| Power Output: | 200V at 100 microfarad. |
| Baster cord: | Similar to cord used for speakers; can be purchased on highstreet. |