Colt Broadband Seismometer

from Reftek Systems Inc
The Colt is a simple compact seismometer which bridges the gap between traditional portable sensors, and those used for local and regional projects. The Colt keeps life simple and makes system deployment easy allowing the operator to focus on the job in hand and not have to worry about the instrumentation.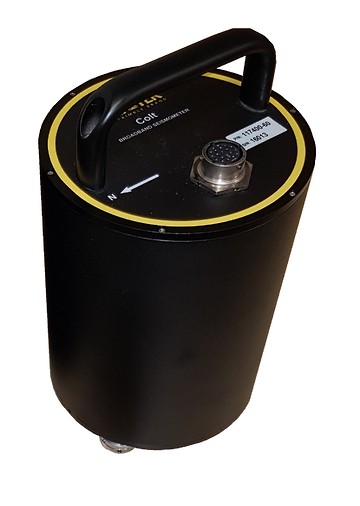 Sensor alignment is a doddle due to the addition of two removable north south points at the base of the sensor to ensure orientation with the scribe line is spot-on. The adage keep-it-simple continues with the three screw levelling legs and circular bubble level on the top of the sensor. The mass within the sensor is unlocked automatically when the sensor is turned on and locked back in position wen the sensor is shutdown, no more need for a screwdriver and that nagging thought in the back of your mind that you have forgotten something important.
When paired with the Wrangler seismic recorder the Colts performance can really be seen. By using a force-balanced electronic feedback circuit design, the REF TEK Colt has exceptionally low self-noise allowing it to better measure ground motion even at the quietest of sites and the wide >155dB dynamic range permits the sensor to be utilised for aftershock analyses.
Features
High dynamic range for portable and vault style installations
Exceptionally low self-noise
Small and lightweight
Shock resistant housing
Robust automatic mass unlock system -Available in two frequncy ranges for varying scientific budgets.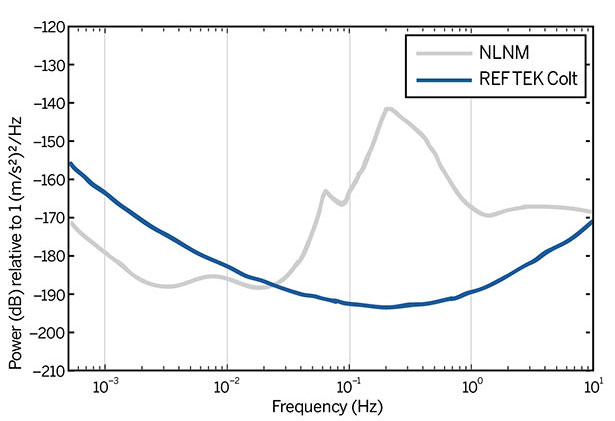 Product Dimensions
| Physical | Dimensions (L x W x H) | Weight |
| --- | --- | --- |
| Colt Broadband Seismometer (instrument only) | 150mm x 150mm x 258mm | 5.5kg |
Technical Specifications
Sensor Type:
Symmetrical (3 Component)
Bandwidth:
0.0083 (120 seconds) – 80 Hz
0.0167 (60 seconds) – 80 Hz
Dynamic Range:
>155 dB (1–10 Hz)
Self-Noise:
Below NLNM from 35 seconds to 10 Hz
Clip Level:
>10 mm/s (@1 Hz)
Sensitivity:
2000 V/m/s
Full Scale Output:
±20 Volts Peak-Peak (Differential Output)
Output Impedance:
<100 Ohms
Parasitic Resonances:
>160 Hz
Total Harmonic Distortion:
<–60 dB
Calibration Constant:
10 m/s2/A (nominal)
Cal coil:
Single Cal signal input, isolated until cal enable line activated
Mass Position Outputs:
±10 V
Input Voltage:
9–18 VDC
Consumption:
<0.7 Watts
Protection:
Over-voltage, Reverse-voltage, and surge protection included