SMRH²

from Reftek Systems Inc
The SMRH² is a new integrated seismic monitoring system which combines the broadband seismic recorder with the 147-force balance accelerometer, enclosed in a single unit (Fig.1).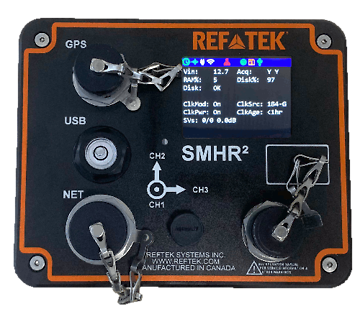 A high-resolution system, which is perfectly designed for early warning installation. The system has a larger dynamic range than previous models due to its 32-bit A/D performance boost which allows the user to record smaller vibrations and acquire a more detailed seismic dataset.
The instrument has an internal triaxial force-balance accelerometer which allows the user to measure low to ultra-low frequency motion by converting acceleration to voltage. This combined high sensitivity, large linear/dynamic range, resolution and compact size with wireless communication, is ideal for early earthquake warning systems in existing infrastructure.
By using the force balance feedback technique, the SMRH² avoids non-linear distortion and threshold sensitivity of elastic measuring parts which can be found with other accelerometers.
The SMRH² communicates through the Seedlink server and can be configured to automatically import MiniSeed data to your analysis software. The system also has its own internal memory (8GB storage, flash memory) which will allow the user to store/back up their data if they cannot connect to the meter or require historical data. With this system, the user has the option to transmit to ultra-low latency for Earthquake Warning applications (EEW) by setting up the unit to transmit real-time data through the REFTEK RTPD software to EEW software.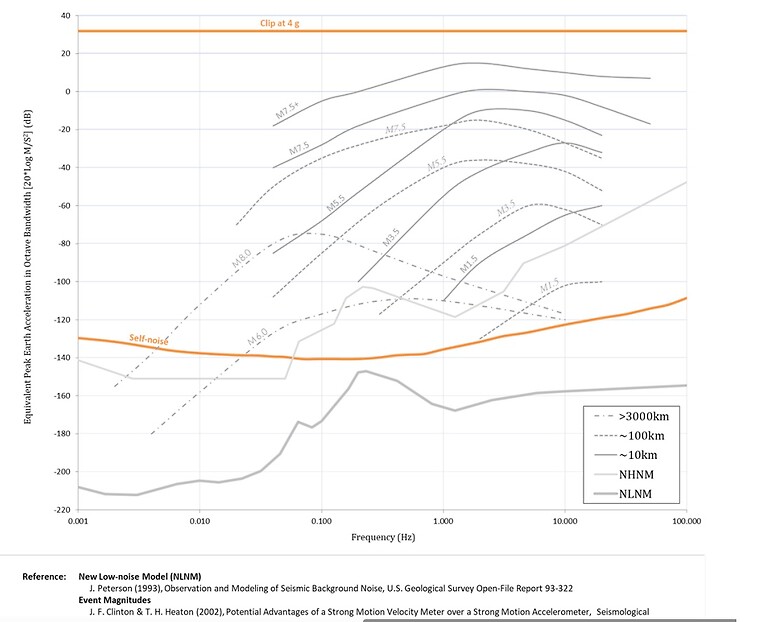 Features
-Larger dynamic range due to the 32-bit A/D performance boost
-Housed as a single unit (recorder +accelerometer), measure ultra-low frequency motion, perfect for EEW
-Increased sensitivity, large linear/dynamic range
-Avoids non-linear distortion and threshold sensitivity of elastic measuring parts uses the force balance feedback technique
-Seedlink server communication, auto import of Miniseed data to the user defined analysis software
Product Dimensions
| Physical | Dimensions (L x W x H) | Weight |
| --- | --- | --- |
| SMRH² (instrument only) | 19 cm x 15 cm x 14 cm | 3.5 kg |
Technical Specifications
| | |
| --- | --- |
| GPS: | GNSS receiver with internal disciplined oscillator ± 10 micro second after validated 3D fix and locked; 0.1ppm over the temp range of 0²C to 50²C; 0.2 ppm from – 20²C to 0²C (Free-running accuracy); PTP or NTP alternate time source |
| A/D Converter, Dynamic Range: | 32-bit SAR A/D converters; -140dB @100 sps |
| Input Channels, gain options and Impedance: | 3ch, x1 or x2 gain, 26 Kohms, 0.002 micro-Fd, differential@ x1 and 2Mohms, 0.002 micro-Fd, differential @ x64 |
| Common mode rejection and FIR Filter: | >90dB; -140dB down in the stopband |
| Sample Rates: | 1000,500,250,200,125,100,50,40,20,10,5,1 sps; simultaneous on all channels |
| Power: | 9-24 VDC, 2.4 Watts (Average power with no communication) and 2.7 Watts (with communication) |
| Battery: | Internal 1.2 Ah, Lead Acid battery; Li batteries (4 x 96 Wh), if an external battery is used, this will be recognised. |
| Low Voltage disconnect: | User programmable with a cut off fixed at 9.0 Volts |
| Recording: | Miniseed, MRF |
| Transmission: | Seedlink server, RTP |
| Trigger Types: | Continuous, STA/LTA, Level, Vote, Time, External and Cross |
| Internal Capacity: | 8 Gb internal Flash memory data buffer, USB |
| Comms: | 10/100 Base-T, TCP/IP, UDP/IP, FTP, RTP, DHCP, Static, Link-local; WIFI access-point for local command and control; WebUI (accessible via WIFI or Ethernet) |
| Screen: | 2.8 Inches TFT |
| Accelerometer Self-Noise and Dynamic Range: | <1 microm/s/s; -155 dB (DC to 10Hz) |
| Linearity and Frequency Response: | <0.1%; DC-250Hz (+/- 3dB) |