EM61S

from Geonics
For operation in marine environments, the EM61S is a completely submersible coil and cable system capable of submersion to depths between depths of 50 - 60 m. Available as an attachment to the standard EM61MK2. The EM61S includes a single coincident transmitter / receiver coil, with cable.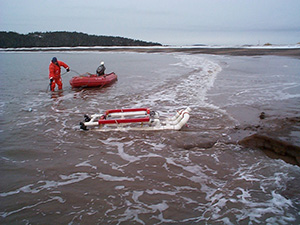 Most commonly, the EM61S is secured to a submersible platform that is positioned and operated on the sea bed. The collimated EM field generated by the 1 x 1m coincident coil ensures that the system can precisely locate small buried objects. The system will sample four gates centred at 216, 366, 660 and 1266 µs which enables the operator to characterise targets. The EM61S has shown to be equally applicable in both freshwater and saltwater environments.
The system is supplied with a simple Windows mobile based rugged handheld PC and intuitive data acquisition software. GPS coordinates can be integrated into the recording software and layback calculations implemented.
Product Dimensions
| Physical | Dimensions (L x W x H) | Weight |
| --- | --- | --- |
| EM61S (instrument only) | 100cm x 50cm x 10cm | 18kg |
Technical Specifications
| | |
| --- | --- |
| Measurement Quantity: | Four channels of secondary response in mV |
| EM Source: | 1m x 0.5m Air-cored coil. |
| Current Waveform: | Unipolar rectangular current with 25% duty cycle. |
| Maximum Output: | 10 000mV. |
| Cables length: | 60m standard, 100m optional. |
Shipping
Contents
Dimensions (L x W x H)
Weight
Case1
EM61 console, coil and cables
112cm x 68cm x 37cm
80kg