Gradiometer Controller

from Geomatrix
The G-882 Gradiometer Controller was designed by Geomatrix Earth Science Ltd to specifically manage power distribution and data for an array of Geometrics G-882 marine magnetometers deployed on a gradiometer frame. This power and data solution permits a array of G-882 magnetometers to be deployed off a soft tow cable… no wire line or telemetry system required… and is perfect for shallow water small deployments.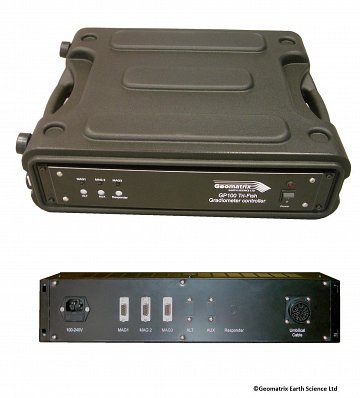 Features
Automatic Power and data management.
Controls up to 4 G882 marine magnetometers and one serial device.
Regulated 28V DC output at wet end.
Rack mountable.
Typically supplied with 150m soft tow cable and 20m deck lead.
High load soft tow cable with rugged polyethylene outer jacket, boasts a breaking strain of 2000kg.
Custom frame cabling.
No wet end electronics required.
Simplifies system diagnostics and trouble shooting.
Supplied in rugged transit case.
The distribution unit supports 3 data channels. By concatenating 2 G-882 magnetometers, and passing the data as a single sentence, the Gradiometer controller is capable of supporting 4 G-882 magnetometers and one other serial device. The third data channel offers the user the ability to record a frame mounted altimeter, gyro or responder. Power is automatically regulated by the specialised electronics ensuring a constant 28V DC is supplied to all devices.
The front panel LEDs indicate when data is being received by the G-882 magnetometers and the serial device, simplifying system fault diagnostics.
Product Dimensions
| Physical | Dimensions (L x W x H) | Weight |
| --- | --- | --- |
| Gradiometer Controller (instrument only) | 47cm x 33cm x 33cm | 10kg |
Technical Specifications
| | |
| --- | --- |
| Power Input: | 100-240VAC |
| Power Output: | 200 W, regulated 28VDC |
| Channels: | 3 |
| Communication: | RS232, 4800-56200 baud |
Shipping
Contents
Dimensions (L x W x H)
Weight
Case1
Gradiometer Controller
47cm x 33cm x 33cm
10kg
Reel1
Soft tow cable 300m
54cm x 54cm x 60cm
45kg