HMS-624 Side Scan Sonar

from Falmouth Scientific
The HMS-624 Side Scan Sonar (Fig.1.) allows the user to capture high resolution images of the sea bed in both shallow and deep waters. The data acquired can supplement bathymetric and magnetic surveys, as this system can be integrated with external sensors such as the G882 magnetometer,using the two serial input ports. The topside power unit is packaged with a 2U 19 inch rack mount which allows a 4Mb/s DSL and ethernet connection for the tow fish. The tow fish electronics within this sonar scanner use the Chirpciever 24-bit signal in addition to the 100/400KHz frequency in order to capture high resolution images at a maximum depth of 2000 meters.
The HMS-624 uses a flexible control interface which allows the CHIRP/CW modes pulse length, range and gain to be measured, whilst allowing the user to acquire and analyse the data using third party software such as OIC GeoDas, Chesapeake SonarWiz, Comm-Tech amongst others. Please be aware that the default software included in the HMS-624 price is the SwannPro software.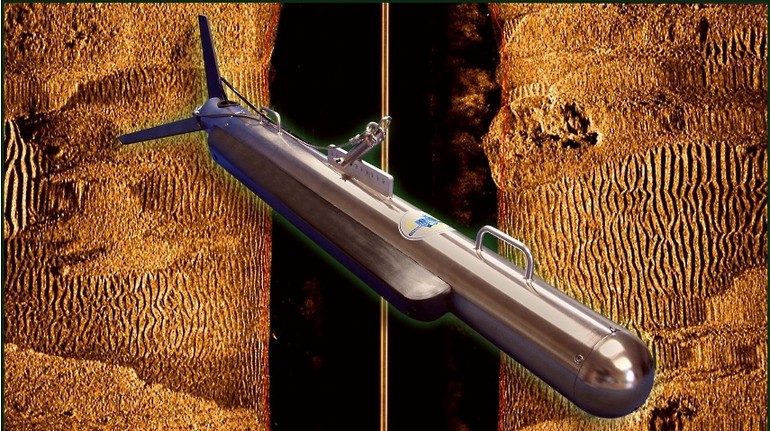 Additionally, FSI have designed a smaller, streamlined Dual Frequency HMS-624 Litt system (Fig.2.) for shallow depth prospection in marine environments. This system uses FSI's Chirpciever 24bit signal and 100/400KHz operating signal to cover maximum depths of 1000 meters. The topside power unit uses an IP66 splashproof enclosure with a 4Mb/s DSL connection for the Tow Fish and the standard ethernet connection.

Features
Dual Simultaneous 100/400 KHz Frequency Operation
Industry Standard Ethernet Interface for Data, Control, & Processing
DSL Over Coax Tow Vehicle Data Interface
Compatible with Industry Standard Survey Software
CHIRP and CW modes
Stainless Steel Tow Fish
Heading, Pitch, & Roll Sensors (Depth Optional)
Two Serial Input Ports for integration of a Magnetometer or other external sensors
Product Dimensions
| Physical | Dimensions (L x W x H) | Weight |
| --- | --- | --- |
| HMS-624 Side Scan Sonar (instrument only) | 160.1 cm (deep); 141.0cm (shallow) x 11.4 cm x 11.4 cm | 55 kg in air, 41kg in water (deep); 25kg in air, 19kg in water (shallow) |
Technical Specifications
| | |
| --- | --- |
| Operation Frequency (Simultaneous): | 100 KHz, 400KHz |
| Signal Type: | CHIRP (24-bit) or CW (user selectable) |
| Operating Range: | 100KHz (600m per side) or 400KHz (200m per side) |
| Horizontal Beam width: | 0.1° (100KHz) or 0.3° (400KHz) |
| Vertical beam with and Depression angle: | 60° and 30° tilted down |
| Resolution: | 8cm (100KHz) or 2cm (400KHz) |
| Sensors: | Heading, Pitch, Roll (Standard) Depth (Optional) |
| Serial Inputs for external Sensors: | Two serial Inputs with 12 or 24VDC Sensor Power |
| Tow Vehicle Material and data interface: | Deep: 316 Stainless Steel; Shallow: Anodised and Powder coated 6061 Aluminium; DSL 4Mb/s with a coaxial cable type |
| Topside Power: | 2U 10 inch rack mount, 115/230VAC, 50/60Hz power |
| Operating Depth: | 2,000 meters (Deep); 1,000 meters (Shallow) |
| Sonar Processor Data Interface: | Ethernet |