USS-110

from Falmouth Scientific
The Model USS-110 stress monitoring unit incorporates a 3-axis accelerometer integrated with a bi-directional high speed acoustic modem. This unique combination allows not only real-time control via down link acoustic commands, but also recovery of accelerometer and external sensor data as well as system diagnostic information. The system is housed in a 5-inch diameter aluminium pressure housing rated for 3000 meter operating depth. In addition to the 3-axis accelerometer and diagnostic data, the unit is equipped with an external connector to provide for optional processing of 5 additional channels of analog data with 12 bit resolution. This capability will allow input of sensor measurements such as strain gauges or load cells and other desired parameters. An acoustic modem is integrated, allowing for real-time data acquisition at rates up to 56K bps.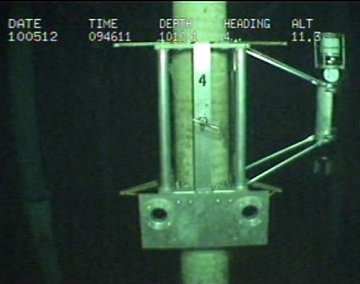 An operator interface software package is provided to allow seamless integration between the customer's computer and the topside acoustic modem. The windows based program provides for control and display of all data acquired and for initiation of down-link commands which allow setting of the sampling interval, data averaging period, or request for continuous raw data.
Features
Real-time remote acquisition of stress and other analog data.
Optional measurement of multiple additional sensor outputs.
High-speed bi-directional acoustic link to surface.
Three axis acceleration and 2 axis inclination sensors for analysis of VIV, DIV, and other stress events.
Accurate real-time clock for data synchronisation.
Internal alkaline battery pack.
Shipboard control and data display software provided.
Product Dimensions
| Physical | Dimensions (L x W x H) | Weight |
| --- | --- | --- |
| USS-110 (instrument only) | 102cm x 13cm x 13cm | 18.5kg |
Technical Specifications
3 Axis Accelerometer Sensor:
Input Range: ±1 g
Sensitivity: 1 V/g
Bandwidth: DC - 50 Hz

2 Axis Inclination Sensor:
Linear Angular Range: ±20º Full Angular Range: ±78º Sensitivity: 35 mV/º Resolution: 0.01º
Standard Data Output:
3 accelerometer measurements plus battery voltage.
Optional Measurements:
5 additional analog input channels, 16 bit resolution.
Data Storage:
Internal 256 MB.
Real-Time Clock Drift:
±5 ppm
Serial Communication:
RS-232, RS-485 or CMOS.
Measurement Update Rate:
Programmable in real-time via acoustic link or through external serial communication connector.
Modem Transmission Mode:
Half Duplex. Commands down-link. Command verification and data uplink.
Acoustic Frequency:
16 - 21 kHz.
Acoustic Transducer:
60 degree directional, optional omni-directional.
Battery Supply:
Alkaline battery pack. 42 Ahrs standard.
Operating Life:
Up to 6 months. Depending on sampling scheme.
Pressure Housing:
6061-T6 Aluminum, Anodized.
Data Sheet
Literature
Checklists