CleanSweep

from Oceanic Imaging Consultants
CleanSweep provides a powerful processing platform for hydrographic survey data management, processing and analysis. With an intuitive user interface and project orientated architecture, multiple datasets can be imported within a project and processed alongside one another for enhanced efficiency. Multibeam, Side Scan, Forward Look and Interferometric datasets can all be processing in one work space.
CleanSweep will automatically locate charts and satellite imagery using the GlobalMapper service and display them as a background overlay in the navigation pane. Navigation errors can be located with cross reference to, heading, pitch, roll and heave records to ensure complete data fidelity. Advanced dead reckoning correction algorithms are included within CleanSweep for surveys preformed by UAVs.

Feature Based Navigation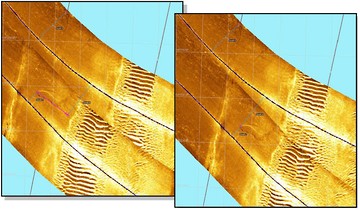 CleanSweep's InterNAV tools allow users to interactively adjust navigation by identifying/matching features in overlapping swaths or using features with known positions. What makes InterNAV unique is its adoption of a SLAM-derived algorithm which recomputes trackline navigation rather than simply georectifying the swath, transforming a simple interactive task into a powerful Navigation correction tool. it is particularly useful when processing deep tow Side Scan systems or AUV based imagery systems where precise position of the sensor is not always possible.