GeoDAS

from Oceanic Imaging Consultants
GeoDAS is a comprehensive data acquisition package for conducting hydrographic surveys. Capable of interfacing with market leading hydrographic equipment GeoDAS offers a wide variety of real-time correction tools and cartographic functions which are generally not offered by the equipment manufacturer's data acquisition software.
This signal acquisition platform provides operators with the ability to control, manage and geo-code multiple sensors simultaneously, and produce observation databases on the fly. With 64 bit Unix code at the heart of the software this Windows OS based program is capable of logging up to 8 broad-band data channels and mosaics 4 channels on a modest spec PC.
Sidescan - Single-Beam - Multibeam - Sub-Bottom - Interferometric - Optical Sensors
Real-time logging and processing control
Records all data and metadata
Integrates all position, altitude and environmental data
Creates real-time mosaics of sidescans, backscatter, bathymetry, magnetometry, or seabed type
Use the comprehensive gains controls, or OIC's "Smart Sonar" one-click gains optimisation
Supports mission planning, execution and analysis, with easy export to Google Earth
GeoDAS interfaces directly with all sensor systems to ensure the hardware and software configuration only has to be implemented once. Once setup is complete a configuration file can be saved and reloaded for future projects to ensure all parameters are maintained.

Data Visualisation
With direct interface to all sensors GeoDAS can apply pitch, roll and heave corrections to multi-beam data in real-time, and filter rogue points with a click of a button; permitting data to be visualised in ways other software only offers during post processing. Mosaics and point cloud views can be created on the fly to assist with navigation and bathymetric Quality Control.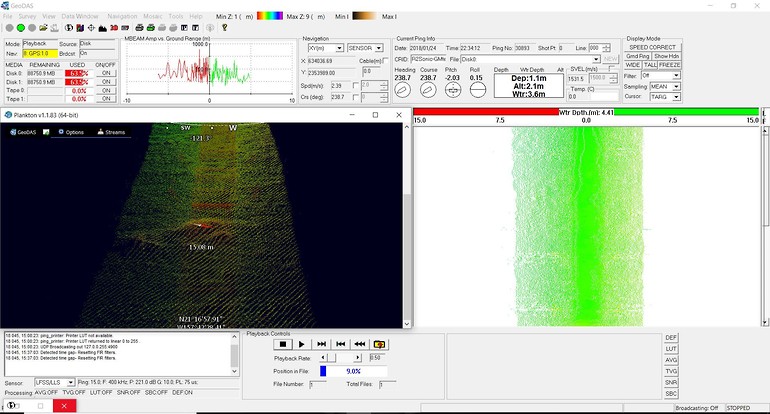 Target Observation and Classification
The GeoDAS Target Classification Tool allows users to group (or ungroup) many observations of the same object as one Target, and calculates target observational info (position, size) from user specified algorithms, observations, and their observational info.
Filters
The Side Scan Sonar module also provides bottom tracking and ground correction tool as well a variety of Gain and filter controls,

LUT is an alternative to DEF for contrast mapping. LUT applies a Look Up Table that maps the dynamic range of the actual data to the dynamic range of the display. Hit the LUT button for automatic LUT creation based on the last 200 pings of data.
The Signal to Noise Ratio (SNR) tool averages out background terrain features enhancing target features. To efficiently utilise SNR scaling, knowledge of target dimensions and sonar sampling rates are required, as SNR is designed to remove the background (i.e. the geology) from the sidescan display.
Forward Looking Sonar & nadir gap filling
GeoDAS 6 incorporates support for forward look imaging sonars. The new feature allows users to acquire and view FLS data alone, or as a nadir gap filler for sidescan data. FLS data uses the geo-coding, target marking, and real time mosaicking features which GeoDAS is renowned for. Now, the user can process FLS imagery and determine how much of the FLS sector to push to the mosaic or waterfall. For standalone FLS operations, users can review imagery in a spatial context. In gap fill mode, this new capability translates to no more holidays, and no time wasted running extra survey lines.