KT10H

from Terraplus
The KT10H Magnetic Susceptibility meter is highly sensitive offering an order of magnitude more sensitive than the standard meter. Solely a Magnetic Susceptibility meter the KT10H is provided with a 60mm diameter circular coil, 3318mm2 measurement area. With all the features and connectivity as the standard KT10 system the KT10H can be used for specialist applications where the material magnetic susceptibility is in the order of 1x10-7 SI units.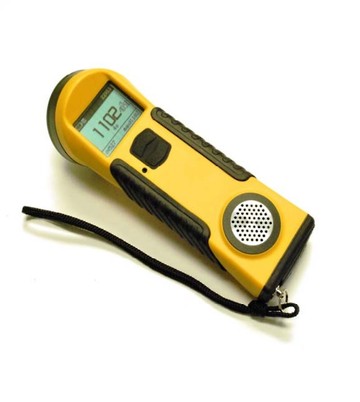 Although the KT10H includes the sample pin and automatic measurement function for rough surfaces this meter performs best on processed samples with even volume and smooth surface to exploit the sensor sensitivity.
With a simple intuitive user interface and two button operation, this handheld meter incorporates a voice recording function for incorporating metadata to records and Bluetooth connectivity for GNSS position integration.
Product Dimensions
| Physical | Dimensions (L x W x H) | Weight |
| --- | --- | --- |
| KT10H (instrument only) | 200mm x 57mm x 30mm | 0.3kg |
Technical Specifications
| | |
| --- | --- |
| Sensitivity: | 1x10-7 SI Units |
| Measurement range: | 0.001x10-3 to 1999.99 x10-3 SI Units Auto-Ranging |
| Total Sensor Measurement Area: | 3318 mm² |
| Operating frequency: | 10 kHz |
| Measurement frequency: | 20 times per second ( in Scan mode, 5 readings averaged together and 4 readings /second stored |
| Display: | High Contrast LCD Graphic Display with 104 x 88 pixels |
| Memory: | Up to 3000 measurements or 2000 measurements with one minute of comments per reading |
| Control: | 1 button with up / down function & pin for rough surfaces |
| Data Input/Output: | USB, Bluetooth with GPS link via Bluetooth |
| Power Supply: | 2 AA Alkaline Batteries or 2 optional AA Rechargeable Batteries |
| Battery life: | Up to 4000 readings without voice recorder |
| Operating temperature: | -20 °C to 60 °C |
| Coil Diameter: | 65 mm with a 45 degree angle |
Shipping
Contents
Dimensions (L x W x H)
Weight
Case 1
KT10H, system cables, rechargeable batteries, spare pin, support CD and manual
37cm x 28cm x 16cm
3kg
Data Sheet
Literature
Checklists
Application Notes
Mineral exploration

The KT-20 has the ability to accurately measure magnetic susceptibility, which is used extensively to determine the magnetic properties of rocks. This is vital for mineral exploration as magnetic susceptibility is related to the concentration and composition of magnetisable material contained in a sample. Magnetisable material includes magnetite, hematite, iron, titanium oxides and clay minerals (chlorite, smectite and glauconite). It can also display an estimated iron ore concentration (%) through the pre installed calibration curve.

The conductivity aspect of the KT-20 is particularly useful in mineral exploration because the target ore minerals generally have a high conductivity compared to the rock types with which they are associated. Metallic ore minerals can significantly affect the bulk resistivity/conductivity of a sample, even in small quantities.

The induced polarisation measurement with the KT-20 gives a dimensionless quantity known as chargeability. These measurements are influenced by minerals which conduct by electron flow, including pyrite and graphite. Clay minerals may also affect the IP measurements however this would be of a smaller magnitude.
Archaeology

Magnetic susceptibility in archaeology can be used to locate traces of previous human habitation, for example building foundations, field systems and areas of burning. The remains of a fire can affect magnetic susceptibility because silt particles and iron oxides can be transformed into very magnetic oxides through burning, and when the organic matter in soil burns it can change hematite to magnetite. Thus increased magnetic susceptibility hotspots could be due to large fires, hearths and kilns. If spikes are present in vertical sections of magnetic susceptibility data, this would indicate a burned layer. Magnetic susceptibility surveys are often used as a precursor to more in depth magnetic surveys. It is an effective way to determine areas of potential archaeological activity. The IP resistivity of samples can provide information on the presence of disturbed clay in an area which has previously been occupied by humans.
Environmental

Magnetic susceptibility measurements can efficiently be used on soil and sediment samples to monitor anthropogenic pollution. These measurements can be used to identify polluted areas, and then to map these areas. Since the magnetic susceptibility is sensitive to ferromagnetic elements such as nickel, lead and zinc the KT-20 can be used to monitor pollution around industrial sites – both past and present. Heavy metal elements (iron, copper, manganese and nickel) have been shown to produce a correlation with magnetic susceptibility, indicating it is possible to use these as proxies for contamination.