CG-6 AutoGrav

from Scintrex
The new CG-6 is the latest generation micro gravity meter from Scintrex ltd. Utilising the same patented quartz sensor technology as its predecessor (the CG-5) the CG-6 offers fast, reliable and precise gravity measurements. Designed with the end user in mind the CG-6 interface is intuitive and simple to operate. With 4GB internal flash memory and the option to transfer data in real time to a recording tablet data is constantly backed up.
The all new Lynx LG application provides additional in-field data quality control and analyses at the operator's finger tips. With real time tide, tilt and ocean load corrections being displayed on screen during data acquisition it is possible to isolate sources of noise and rectify them quickly.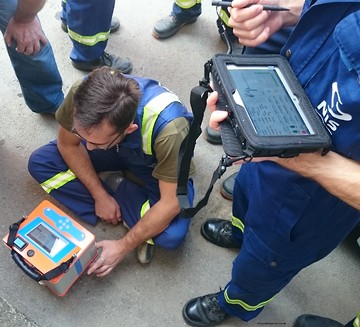 Features:
Integral GPS (I.e. not an add-on stuck out the side)
Bluetooth and USB connectivity for easier and faster data download
Choice of Berger, ETSTAB or user defined tide corrections
In-field simple Gravity profiles and Bouguer anomaly maps
Lynx LX software, for mapping real-time positioning, previous survey/station recall, station /route import capability and post processing,
Simplified tilt and drift calibration interface via Lynx software
User selectable filters – Blackman-Harris (FIR) or moving average
Data acquisition software permits user to upload predefined station coordinates for improved survey management
Addition of Ocean Load Correction – choice of Schwiderski (default), FES2004 or CSR3.0.
Graphical display of instrument metadata for improved data QC. Including; level, tide, load, temperature, drift. Toggled view between raw measurement values and gravity correction in μGal.
More intuitive user interface, faster levelling
Can operate via rugged tablet PC
Greater data storage
35% lighter
Reduced profile means better performance in windy conditions
Product Dimensions
| Physical | Dimensions (L x W x H) | Weight |
| --- | --- | --- |
| CG-6 AutoGrav (instrument only) | 24 cm x 21 cm x 21.5 cm | 5.2kg (including batteries) |
Technical Specifications
Sensor Type:
Fused quartz using electrostatic nulling
Reading Resolution:
1 microGal
Reading Standard Deviation:
< 5 microGal
Operating Range:
World-wide (8,000 mGal without resetting)
Residual Drift:
< 20 microGal/day
Uncompensated Drift:
< 200 microGal/day
Range of Automatic Tilt Compensation:
±200 arcseconds
Tares:
Typically < 5 microGal for shocks up to 20 g
Automated Corrections:
Tide, instrument tilt, temperature, noisy sample filter, seismic noise filter, drift
Data Output Rate:
Up to 10 Hz, user defined.
GPS Accuracy:
Standard < 15 m; DGPS (WAAS) < 3 m
Touch-Free Operation:
Handheld Tablet with Bluetooth
Battery Capacity:
2 X 6.8 Ah (10.8 V) rechargeable lithium smart batteries. Full day operation at 25 °C (77 °F)
Power Consumption:
5.2 Watts at 25 °C (77 °F)
Operating Temperature:
-40 °C to + 45 °C (-40 °F to 113 °F); Optional high temperature version to +55 °C (131 °F)
Memory:
4GB internal flash memory.
External memory, courtesy of the tablet, of over 50GB.
Digital Data Output:
USB and Bluetooth
Shipping
Contents
Dimensions (L x W x H)
Weight
Case1
CG-6 and all accessories
1m x 0.5m x 0.5m
30kg
Shipping Notes:
All CG-6 transit cases will be strapped to a standard sized pallet for shipping. This helps to ensure the instrument is handled correctly during shipping.
It is common for the CG-6 batteries to fully deplete when shipped overseas via courier, to avoid this we recommend hand carrying the equipment on a commercial flight. Geomatrix will support any costumer who wishes to transport a CG-6 in this manner by delivering the instrument to Luton Airport.