Atom - Wireless Seismograph

from Geometrics
The Atom is the latest generation seismograph by Geometrics Inc. A completely wireless system each Atom consists of a state-of-the-art 24-bit A/D conversion, GPS-controlled timing, internal power supply and 4GB of internal data storage. In order to improve functionally and keep the form factor small, lightweight, and covenant to transport the system is equipped with WiFi for data download and NFC for convenient field setup. Capable of supporting single channel or 3 component geophones the Atom can adapt to the requirements of the operator.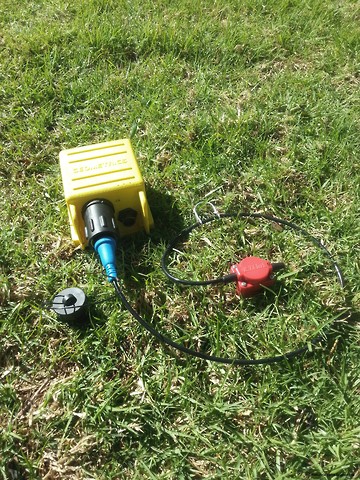 The Atom's primarily application is low frequency passive wave data acquisition. Typically 11 to 100 of units are deployed over a large area and record independently for multiple days. As each Atom is a complete recording device the operator is not constrained by cables or a laptop/data logger, and can deploy non-uniform arrays.
After data download SeisImager automatically shorts records base of the GPS time stamp, applies the array geometry, produces the phase velocity plots and coherence curves.
Features:
Internal Power: No big batteries to lug around
Low energy consumption - Operates up to 70 hours in the field between charges!
Simple acquisition - No laptop required
GPS time synchronization – Cable free!
Wireless downloading – Cable free!
Passive data acquisition – No hammers or weight drops
Unmatched Specifications – 24 bit, ultra-high resolution 1.5 to 1,650 kHz bandwidth, low distortion (<0.001% at 25Hz, 2ms)
Product Dimensions
| Physical | Dimensions (L x W x H) | Weight |
| --- | --- | --- |
| Atom - Wireless Seismograph (instrument only) | 142mm x 140mm x 102mm | 1.6kg |
Technical Specifications
| | |
| --- | --- |
| Channels: | 1 or 3 |
| A/D Resolution: | 24 bits |
| Preamp Gain (PG): | 0, 12, 24, or 36db |
| Sample Intervals: | 0.25, .5, 1, 2, 4, and 10 ms |
| Bandwidth: | 0.2 - 1650 Hz |
| Dynamic Range: | 128db @ 2ms PG=12db, 124db @ 2ms PG=24db (typ) |
| Distortion (THD): | Less than 0.001% at 25Hz, 2ms (typ) |
| CMR: | Greater than 90db @ 60Hz |
| Max Input Signal: | 1.6 Vrms @ 12db, 100 mVrms @ 36db |
| Input Noise: | 0.12 mVrms @ 2 ms PG=36db, 0.70 mVrms @ 2 ms PG=12db (typ). |
| Input Resistance: | 20 kOhm |
| Internal Storage: | 4 Gb standard; expandable to 32 Gb |
| Data Upload: | Standard 802.11g WiFi. Each Atom appears as a DHCP client |
| Geophone Test: | Tap the geophone and LEDs respond with a distinctive pattern. |
| Power: | Powered by internal 10AH NiMh batteries and/or an external 6VDC battery. |
| Charging: | Charging voltage is 5 volts at 1.5 Amps. Nine hours for full charge when charging through the 10-pin charge connector. 14 hours to charge using a wireless adaptor. |
| Environmental: | IP68, dustproof and waterproof to 1m |
| Operating Temp: | -20°C to +55°C (-4ºF to +131ºF) |
Shipping
Contents
Dimensions (L x W x H)
Weight
Case 1
12 channel Atom system for passive recording
71cm x 50cm x 40cm
35kg