1D Wave and Tide Meter

from Falmouth Scientific
A simple easy to use system with selectable sample rate (1 to 5 Hz), the user to acquire accurate point-spectra of waves. Pressure sensor output can also be integrated to obtain water level measurements unaffected by wave action. With 2 GB of on board flash data memory, the WAVETIDE-PLUS can retain the large amounts of data required for highly detailed wave characterisation.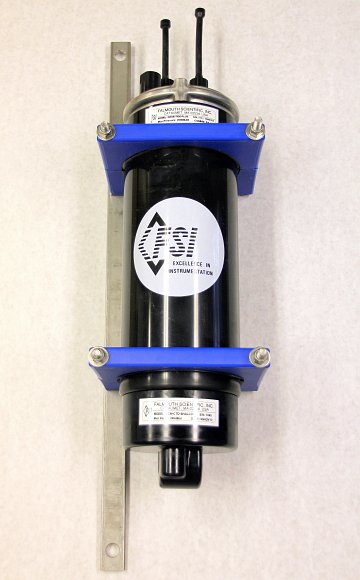 The WAVE-TIDE-PLUS is available with an optional Barometric Sensor. This option comes complete with surface housing, reinforced 30 meter cable (or user-specified length) and NEMA weather-proof enclosure with standard marine-grade connectors. The NEMA enclosure houses the barometric sensor with space for two 6V lantern or 7.5 AHr gel cell batteries. Other options include a solar panel charger and radio data telemetry sub-systems.
Features
High-accuracy wave data provided by fast sampling and a precise pressure sensor.
Fast Data Sampling up to 5 Hz; Fast Data Download.
Long-term data logging to 2 GigaByte internal flash SD memory.
Simultaneous Data Logging and Serial Output via RS-232 (RS-485 optional).
Water Temperature measurement.
Micro-Machined Silicon Pressure Sensor 0 to 50 PSIA (or optional range).
Optional Barometric Pressure Sensor.
Optional conductivity, temperature, pressure sensor package (CTD) may be added.
Windows-based Micro Tide Software for Configuration and Data Acquisition.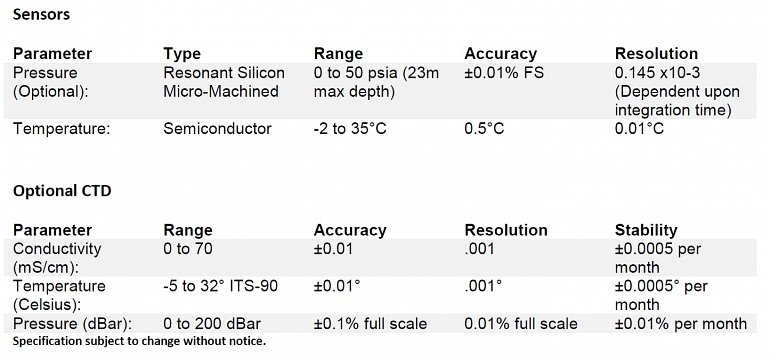 Product Dimensions
| Physical | Dimensions (L x W x H) | Weight |
| --- | --- | --- |
| 1D Wave and Tide Meter (instrument only) | 60cm x 17cm x 19cm | 8kg |
Technical Specifications
| | |
| --- | --- |
| External Power: | 8 to 32 VDC |
| Current Draw: | Typical 60 mA at 1 Hz sample rate; Sleep 1.0 mA battery, 3.5 mA external power. |
| Battery Power: | Alkaline 5 D Cell Welded Pack, 10 AHR. |
| Internal Memory: | 2.0GB Standard. |
| Sample Rate: | 5 Hz Maximum. |
| Sampling Modes: | Continuous, Interval, and Delayed Start (continuous or interval). |
| Vector Averaging Period: | User Selectable up to 59 Min:59 Sec. |
| Real Time Clock: | Programmable High Accuracy Sampling/Low-power Mode. |
| Clock Stability: | +/- 2ppm (0-40 degrees C); +/-4ppm (-40 degrees C to +85 degrees C). |
| Input Channels: | Two (2) 0-5V DC Input Channels with 12 bit A/D resolution available for external sensor input, such as Transmissometer, DO, OBS (Regulated 12 VDC 1.5W provided to power external sensors). |
| Depth Rating/Physical Material: | 200 Meter Epoxy Housing Standard, P/N: WAVE-TIDE-PLUS |