ACM-WAVE-PLUS Meter

from Falmouth Scientific
The ACM-WAVE-PLUS collects, outputs and stores instantaneous current velocity data in three dimensions along with 3-axis compass data, 2-axis tilt data, temperature data and data on wave statistics and tides. The device can also be configured to log up to two auxiliary inputs from external sensors (e.g. pH, Fluorometer, Transmissometer) and can be equipped with an optional CTD module.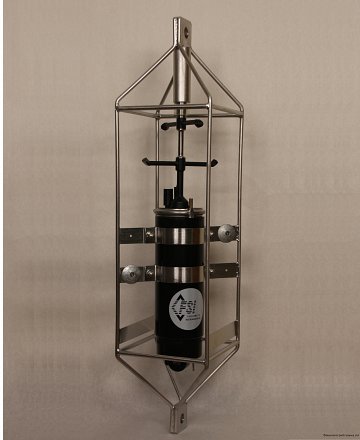 Current velocity is detected by FSI's enhanced ACM-PLUS acoustic current meter technology which measures the current velocity in 3 dimensions using four acoustic transducers. The transducers are in close proximity and measure the current in a self-contained environment so they are not dependent on reflections from particles or other surfaces like the traditional Doppler current profiler. This enables very good data in applications where ADCPs have trouble such as very clear or still water, shallow water, or at deep depths.
Wave and tide data are measured by a high accuracy, micro-machined silicon pressure sensor, and can be recorded raw or processed automatically by the software to output wave statistics, including wave height, peak frequency, average period, max period and tide. A 3-axis compass measures the Earth's magnetic field and a 2 axis tilt sensor measures tilt. The compass and tilt readings can be used in the current direction calculations to produce velocity readings in North, East and Up rather than X, Y and Z.
The instrument can be deployed in a multiple-mode format to allow continuous data collection (1-5 Hz), periodic burst sampling or long term averaging. Burst mode outputs and stores data at one of five sampling rates for specified periods at specified intervals. The burst data can be interleaved with the vector averaged current velocity and tilt data to provide an efficient data collection method.
There is also the option to view real time data on a monitor or graphical dashboard using ACM-ProPlus software which is also used to configure the system and download the data.
The ACM-WAVE-PLUS includes advanced standard features such as extended on-board data memory, fast download capability, high accuracy real-time clock and high speed data sampling.
Features
High-accuracy wave data, precise pressure sensor
Built-in 3-Axis ACM with excellent low-velocity resolution
Electronic magneto-resistive compass, 2-axis tilt sensor
Fast Data Sampling up to 5 Hz; Fast Data Download
Long-term data logging to 2 GigaByte internal memory
Built-in High Accuracy real-time clock
1.5-ton working strength mooring frame standard; optional 5-ton mooring frame
Optional conductivity, temperature, pressure sensor package (CTD) may be added
Product Dimensions
| Physical | Dimensions (L x W x H) | Weight |
| --- | --- | --- |
| ACM-WAVE-PLUS Meter (instrument only) | 25cm x 25cm x 100cm (5 ton frame) | 12kg |
Technical Specifications
External Power:
8 to 32VDC.
Current Draw:
Typical 60 mA at 1 Hz sample rate; Sleep 1.0 mA battery, 3.5 mA external power.
Battery Power:
Alkaline 5 D Cell Welded Pack, 10 AHR.
Memory:
2.0GB Standard.
Sampling Modes:
Continuous, Interval, and Delayed Start (continuous or interval).
Sample Rate:
5 Hz Maximum.
Vector Averaging Period:
User Selectable up to 59 Min:59 Sec.
Real Time Clock:
Programmable High Accuracy Sampling/Low-power Mode.
Clock Stability:
+/- 2ppm (0-40 degrees C); +/-4ppm (-40 degrees C to +85 degrees C).
Input Channels:
Two (2) 0-5V DC Input Channels with 12 bit A/D resolution available for external sensor input, such as; Transmissometer, DO, OBS, etc. (Regulated 12 VDC 1.5W provided to power external sensors)
Depth Rating:
200m Epoxy Housing Standard.
Mooring Frame:
1.5 Ton 316 Stainless Steel Mooring Frame.
5 Ton 316 Stainless Steel Mooring Frame.
Shipping
Contents
Dimensions (L x W x H)
Weight
Case1
ACM-PLUS 5 Ton frame and cables
110cm x 40cm x 35cm
18kg