ACM-PLUS Current Meter

from Falmouth Scientific
Delivers extremely precise 2 or 3 dimensional velocity measurements (user selectable) in a defined free field. The ACM-PLUS uses the most accurate and stable current measurement techniques available today and is configured with standard features that are options on competitive instruments such as extended on-board data memory, fast download capability, high accuracy real-time clock, and high speed data sampling.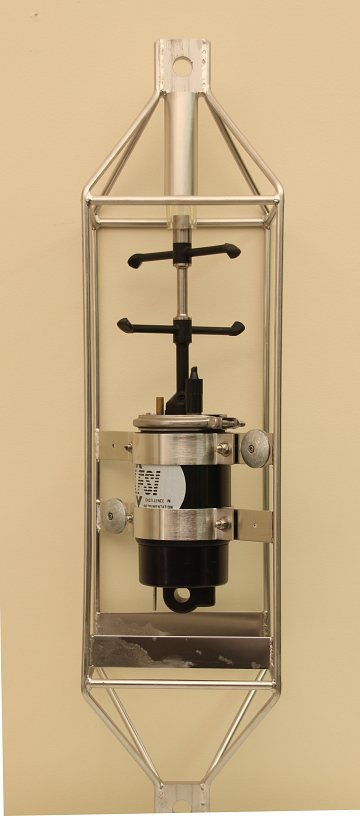 The unit's compact size and light weight make the ACM-PLUS well suited for multiple meter arrays. Windows-based software for meter setup, data collection and data visualisation make the FSI ACM-PLUS very user-friendly.
The ACM-PLUS is available in either shallow-water or deep-water housings, see gallery for images for the mooring frames. The internal compass and tilt sensors to provide true current vector direction and the device may also be equipped with an optional pressure sensor, an optional Current, Temperature and Depth (CTD) module, and can be configured to log up to two analog inputs from external sensors (e.g., Dissolved Oxygen (DO), OBS, etc.).
The low power digital recorder and on board solid state memory make this system ideal for array based monitoring projects or spot measurements.
Features
Compact, lightweight, low-maintenance construction.
User Selectable 2 or 3 axis true cosine response velocity measurement.
Accurate velocity measurement with excellent low-velocity resolution.
Electronic magneto-resistive compass with 2-axis tilt sensor. -Fast Data Sampling up to 10 Hz.
Water Temperature measurement.
Extremely long battery life with low-maintenance alkaline batteries.
Real-time output/display capability; Fast Data Download.
Long-term data logging to 2 GigaByte internal flash memory.
ASCII serial data output via RS-232 or RS-485 (set at factory).
Built-in High Accuracy real-time clock with on/off power control.
1.5-ton working strength mooring frame standard; options for 5-ton mooring frame or frame with mooring line clamps.
Optional pressure sensor or integrated conductivity, temperature, pressure sensor module (CTD) may be added.
Choice of epoxy shallow-water (200m) or titanium deep-water (7000m) housings.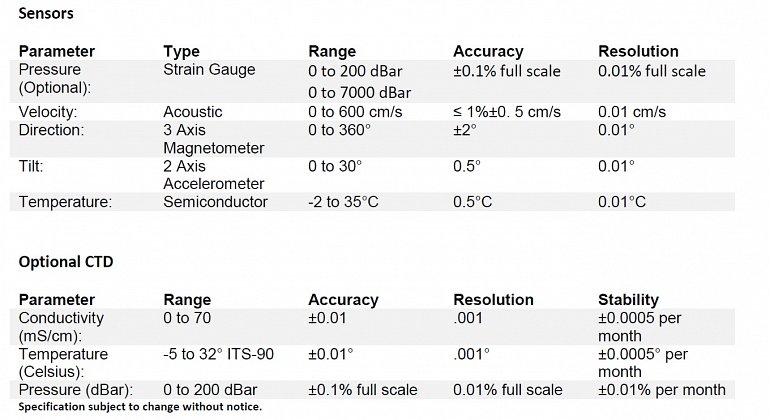 Product Dimensions
| Physical | Dimensions (L x W x H) | Weight |
| --- | --- | --- |
| ACM-PLUS Current Meter (instrument only) | 25cm x 25cm x 100cm (5 ton frame) | 12kg |
Technical Specifications
External Power:
8 to 32VDC.
Current Draw:
15 mA at 1 Hz sample rate; 80 mA at 10 Hz sample rate; 150 uAmp sleep.
Battery Power:
Alkaline 5 D Cell Welded Pack, 10 AHR.
Memory:
2.0GB Standard.
Sampling Modes:
Continuous, Interval, and Delayed Start (continuous or interval).
Sample Rate:
10 Hz Maximum.
Vector Averaging Period:
User Selectable up to 59 Min:59 Sec.
Real Time Clock:
Programmable High Accuracy Sampling/Low-power Mode.
Clock Stability:
+/- 2ppm (0-40 degrees C); +/-4ppm (-40 degrees C to +85 degrees C).
Input Channels:
Two (2) 0-5V DC Input Channels with 12 bit A/D resolution available for external sensor input, such as; Transmissometer, DO, OBS, etc. (Regulated 12 VDC 1.5W provided to power external sensors)
Depth Rating/Physical Material:
200 Meter Epoxy Housing Standard, P/N: ACM-PLUS-200
7000 Meter Titanium Housing Optional, P/N: ACM-PLUS-7000
Mooring Frame:
1.5 Ton 316 Stainless Steel Mooring Frame.
5 Ton 316 Stainless Steel Mooring Frame.
5 Ton 316 Stainless Steel with Mooring Line Clamps
Specify on order.
Shipping
Contents
Dimensions (L x W x H)
Weight
Case1
ACM-PLUS 5 Ton frame and cables
110cm x 40cm x 35cm
18kg