Bubble Pulser LF

from Falmouth Scientific
The Bubble Pulser LF is a 0.7m diameter low frequency transducer plate for 2D and Ultra High Resolution marine seismic surveys, in particular Ground engineering and Geological mapping. With a 2Hz pulse repetition rate and high shot-to-shot wavelet fidelity, correlation >0.96, deconvolution can be performed with confidence and shots can be stacked for improved signal to noise.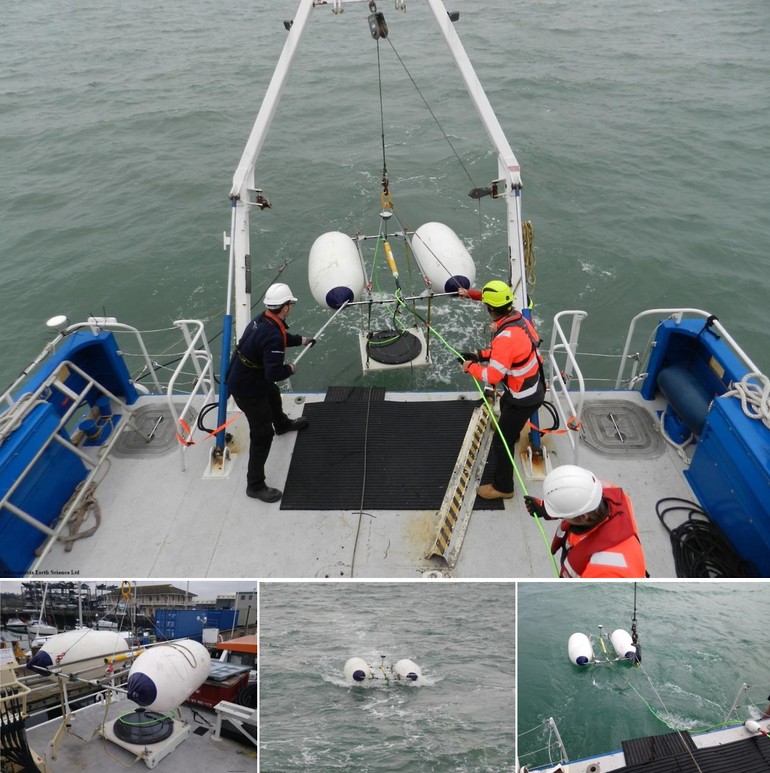 Due to the unique electromechanical plate design the Bubble Pulser top end power supply can be run on a 2kVA 110 or 240VAC power supply. With such minimal power requirements it is easy to configure multiple LF plates into an array as an alternative to a small air gun source, without having to manage high pressure hoses or a compressor.
The top end power supply includes trigger timing and key-out for synchronising the recording system with the source pulse. Alternatively the source can be triggered via TTL for navigation controlled shots.
Features
2Hz pulse repetition rate
Easy, simple, safe power supply
Configurable as dual plate source
High shot-to-shot correlation
Product Dimensions
| Physical | Dimensions (L x W x H) | Weight |
| --- | --- | --- |
| Bubble Pulser LF (instrument only) | 168cm x 122cm x 114cm deployed | 260kg |
Technical Specifications
| | |
| --- | --- |
| Source Type: | Electromechanical |
| AcousticSource Level: | Approximately +220 dB ref 1uPa @ 1 meter |
| Peak-to-Peak Amplitude: | Approximately 1 bar-m |
| Normalized Shot-to-Shot Cross Correlation: | Repeatable Shot-to-Shot Phase and Amplitude Wavelet Correlation > 0.96 |
| Tow Cable: | 100-meter abrasion resistant electro-mechanical cable |
| TriggerInput: | External key or manual time-based selection |
| Repetition Rate: | 2Hz |
Shipping
Contents
Dimensions (L x W x H)
Weight
Case 1
LF Bubble Pulser plate, power cable, tow rope, lifting harness & power supply
120cm x 100xm x 100cm
350kg
Case2
Fenders
190cm x 110cm x 50cm
70kg
Case 3
LF Bubble Pulser tow frame
200cm x 50cm x 30cm
45kg
Shipping Notes:
A forklift will be required to lift the items off the delivery lorry. The vessel will need a crane and A-Frame for mobilisation and deployment.