MagLog

from Geometrics
MagLog is an advanced geophysical data logging software package for serial, USB and network interfaced instruments. fundamentally designed for Airborne and Marine data acquisition in which multiple data sources required accurate time synchronisation.
MagLogLite TM offer all the necessary features required to preform Marine and land based surveys, whereas MagLogPro reserves specific features for Advanced system configurations.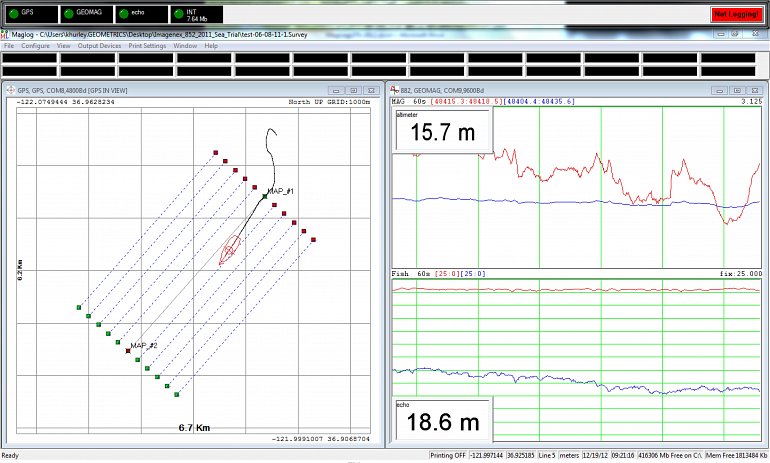 This software requires a paid license, demo license available. Download MagLog.
MagLogLite offers the marine or land survey operator an easy to use yet sophisticated data logging and display controller. MagLogLite boasts superior data handling capabilities for logging, displaying and printing multi-channel asynchronous data transmissions. Single sensor or multi-sensor gradiometer arrays with depth, altitude and/or differential GPS track on map overlays are easily configured for storing to disk, display and printing using the new step-by-step Configuration Wizard.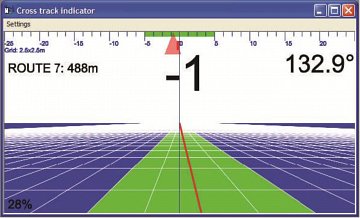 Features
MagLogLite
Designed with a Configuration Wizard for automatic setup of Marine and Vehicle survey operations.
Includes Directory of common instrument communication protocols.
Instrument protocols can be set manually for unsupported devices.
Mini-window displays provide a flexible representation of data.
Real-time diagnostics performed on all data inputs, providing audio alarms as immediate feedback if data is not being transmitted, is out of range or fails other quality criteria.
Layback calculations and coordinate transformation.
MagLogPro
Includes all of the above, plus;
Real-time data output to another computer or central data centre via TCP/IP network connection.
Incorporation of cable counter distances for real-time layback calculation.
Supports Gyro devises to correct layback error during turns (particularly important to Multi sensor marine arrays with wide swath width)
Supports USBL (ultra sort baseline) tracking devices.
Supports additional 3rd party instrumentation like Gamma Ray Spectrometers and EM61MK2.
3D highway steering window for navigating along predefined survey routes. Data logging can be automatically terminated once the vehicle reaches the endpoint of the route. Cross track errors are calculated in real time to relay line deviations so the pilot can actively adjust the heading to return on the line. Users can include an acceptable line offset before an error message appears to inform the pilot to shift back towards the survey route.
Technical Specifications
Operating System:
Windows xp- Windows 10.
Versions:
MagLogLite
MagLogPro
Protection:
USB Key Lock dongle, or time limited activation code.
FAQ's
Why am I unable to Configuring MagLog with two concatenated G-882DIGITAL

Problem:

When using G-88x/823 input device it is not possible to enable Sensor 2,3,4…. in a concatenated group of G-882DIGITAL. Only the first G-882DIGTIAL in the concatenated sentence is available.

88x 823 Setting Window showing Sensor 2,3,4... disabled

Solution:

Run MagLog and navigate to Configure -> Device buffers and settings then disable (uncheck) the Configure 88x magnetometer(s) for each survey option which will allow the user to freely set which Sensors are active or disabled.

Route to the **Configure 88x magnetometer(s) for each survey** setting

Explanation:

Configure 88x magnetometer(s) for each survey option has to be turned off because the G-882/823 Configuration tool has been replaced by the G-882DIGITAL console program.

G-88x/823 Config tool when connected to G-882DIGITAL

One of G-882/823 Configuration functions was to count the number of magnetometers which are present in a concatenated group. Because the G-882/823 Configuration tool cannot program the G-882DIGITAL instruments the software is unable to count the number of magnetometers in a concatenated group. As a result the OK button is unavailable (greyed out) and the only option is to cancel out of the window which in turn disables the ability to turn on additional sensors in the 88x 823 Settings window.

By disabling G-882/823 Configuration MagLog relies on the user to define the number of concatenated magnetometers within a group and define the number of channels for each sensor.

If the G-882DIGITAL are run in bypass mode G-882/823 Configuration will be able to communicate with the G-882, but Depth, Altitude, Pitch and roll will be unavailable because they are wired directly to the G-882 DIGITAL Accessory Board
Why is MagLog crashing?

This issue could simply be down to the Windows Key board settings. Try changing the Keyboard map layout to USA.

It has recently been discovered that MagLog may crash when input device settings are adjusted (i.e. the Signal QC level) if the laptop/PC Keyboard setting are not set to USA. Symptoms include the active window freezing. Tests have been conducted on Windows 10 devices.