QL40-ELOG

from Mt Sopris
The QL40ELOG multi-point resistivity probe sub can be run stand-alone or with other QL tools in a custom stack. Measurements include 8, 16, 32, and 64-inch (0.2, 0.4, 0.8, 1.6 meter) normal resistivity, single point resistance (SPR), and self-potential (SP). Other QL probes commonly stacked with the QL40ELOG include the QL40GR (natural gamma), QL40FTC-B (temperature0fluid resistivity), and the QL40CAL (3-arm caliper), but many possibilities exist owning to the flexibility of the QL (Quick Link) family. Normal resistivity measurements, single point resistance, and self-potential measurements are designed for surveying open (uncased) fluid filled boreholes.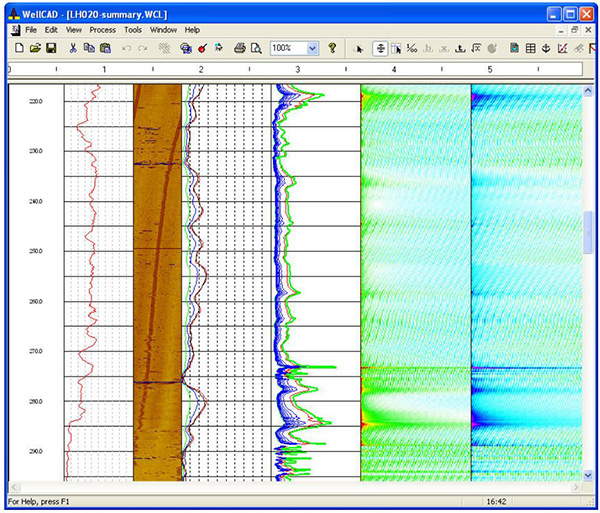 Features
Four resistivity measurements compared to just two from most other manufacturers.
Slimline at only 40mm diameter.
Easy one-person operation.
Product Dimensions
| Physical | Dimensions (L x W x H) | Weight |
| --- | --- | --- |
| QL40-ELOG (instrument only) | 208cm x 4.2cm x 4.2cm | 10kg |
Technical Specifications
| | |
| --- | --- |
| Pressure Rating: | 200 Bar (3000 PSI). |
| Operating Temperature: | Up to 70ºC. |
| Sensor: | Stainless steel electrodes, normal array. |
| Accuracy: | 1% F.S. |
| Resolution: | 0.1 Ohm-meters, 0.1 Ohms, 0.1mV. |
Shipping
Contents
Dimensions (L x W x H)
Weight
Case1
QL40-ELOG and bridle
215cm x 32cm x 16cm
30kg