GTEM

from Geonics
The Geonics G-TEM is a complete TEM system offering advanced quality control and analysis features to assist operators obtain reliable near surface resistivity soundings. Designed to be portable and simple to operate, the G-TEM offers an intuitive user interface and menu for implementing central loop soundings, moving receiver and Slingram records.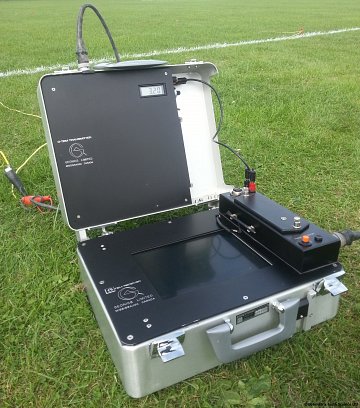 As standard the G-TEM is supplied with a TEM47 transmitter- suitable for prospection to up to 150m- which is built into the lid of modular briefcase style housing. In instances where large central loop sounding are undertaken the Transmitter (lid) and Receiver (bottom) can be separated and a custom length reference cable employed. The G-TEM receiver is compatible with all TEM transmitters and Receiver coils supplied by Geonics; equally the G-TEM transmitter can be used with the PROTEM.
Through incorporating a Laptop PC into the G-TEM receiver operators can perform all functions on the instrument itself including full infield inversions of sounding curves. Built-in test routines aids validate system setup and noise levels before acquiring data.
The G-TEM data acquisition software centres on a graphical sounding display and geometry window, survey parameters and time gate amplitudes flank the screen.
Product Dimensions
| Physical | Dimensions (L x W x H) | Weight |
| --- | --- | --- |
| GTEM (instrument only) | 40cm x 32cm x 18cm | 13kg |
Technical Specifications
Display:
10 inch colour touchscreen LCD.
Measurement Quantities:
Rate of decay of magnetic field, in nV/m².
Channels:
1 Channel.
Time Gates:
20 gates covering 2 time decades
30 gates covering 3 time decades, or
User-programmable
Dynamic Range:
16 bits minimum.
Base Frequency:
0.3, 0.75, 3, 7.5, 30, 75 and 285 Hz, or
0.25, 0.625, 2.5, 6.25, 25, 62.5 and 237.5 Hz.
Integration Time:
0.5, 1, 2, 4, 8, 15, 30, 60 or 120 s.
Data Storage:
320 GB internal hard drive; memory stick compatible.
I/O Ports:
RS-232, USB and RJ45.
Synchronization:
Reference cable.
Power Source:
-15V rechargeable lithium battery.
Number of Records Per Station:
1, 2, 5, 10, 30, continuous
Current Waveform:
Bipolar rectangular current with 50% duty cycle.
Base Frequency:
30, 75, or 285 Hz (power line frequency 60 Hz)
25, 62.5 or 237.5 Hz (power line frequency 50 Hz)
Turn-Off Time:
2.5 μs at 3A into 40 x 40 m loop; faster into smaller loop.
Transmitter Loop:
1 x 1 to 100 x 100 m single turn loop, or 5 x 5 m 8-turn loop.
Output Voltage:
0 to 9 V, continuously adjustable, with internal 15 V battery.
Output Current:
3.5A with internal 15 V battery.
Power Source:
Internal 15 V rechargeable lithium battery; optionally, up to four external 12 V batteries.
Battery Life:
8h continuous operation at 2A output.
Shipping
Contents
Dimensions (L x W x H)
Weight
Case1
GTEM
66cm x 58cm x 51cm
48.5kg
Case2
Transmitter cable reel (for 40mx40m loop)
63cm x 53cm x 57cm
60kg
Case3
Receiver coil, Q coil.
66cm x 74cm x 18cm
22.5kg
Shipping Notes:
System will be consolidated onto a 12cmx100cmx95cm pallet, total weight 145kg.
Data Sheet
Literature
Checklists