G-864

from Geometrics
The high performance G-864 caesium magnetometer/gradiometer provides a quick and efficient solution for magnetic mapping. It gives extremely accurate magnetic field readings at a high sample rate (10Hz) and data can be recorded to a USB memory stick as a text file in the Dogcatcher data logger as well as to a tablet or smart phone via Bluetooth. The tablet has the speakers removed for reduced magnetic influence, and can be used to operate the system within 1m of the sensors with minimal noise using the MagMonitor app.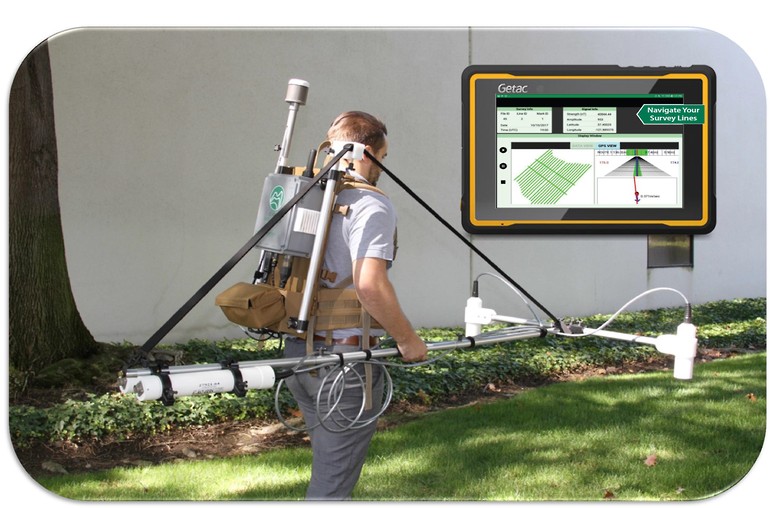 MagMonitor can be installed on Android devices and allows the user to monitor and log data streams as they are being recorded. There is the option for simple survey, mapped survey and navigation (as well as monitor mode and playback survey). Users familiar with the G-858 and G-859 caesium magnetometers will already be recognise the simple survey and mapped survey modes. Simple survey only records the GPS and magnetometer data as it comes into the device, while mapped survey allows the grid coordinates of the survey file to be defined. Navigation mode enables the operator to see their position on the map of survey lines as well as a close up line view which directs the operator to the left or right in order to maintain accurate survey positions. Survey lines can either be imported from a KML file or a route can be added manually using start/end point latitudes and longitudes. The playback survey function can be used to review data and create a colour map prior to download to ensure high quality data and allow the operator to flag targets or features of interest before leaving the survey site.
A GPS message is integrated into the magnetic data to provide accurate time stamps which can be synced to a high degree of precision with another mobile magnetometer or base station using GPS. In addition to providing magnetic field measurements, the electronic circuits in the G-864 provide the ability to concatenate its measurement data with the output of other RS-232 serial devices. This feature permits the G-864 to be integrated with other digital devices and to merge this combined data into a single digital stream for efficient transmission and storage.
Product Dimensions
| Physical | Dimensions (L x W x H) | Weight |
| --- | --- | --- |
| G-864 (instrument only) | 250cm x 60cm x 220cm | 11kg |
Technical Specifications
Sensor:
Self-oscillating split-beam Caesium Vapour (non-radioactive)
Operating Range:
20,000 nT to 100,000 nT
Sensitivity:
< 0.004 nT√Hz rms
Absolute Accuracy:
< 3 nT throughout range
Operating modes:
- Monitor
- Simple survey
- Mapped survey
- Logger with navigation
Data Output:
Serial logger, removable USB memory stick
Data Format:
ASCII, MS Windows PC compatible, FAT32 file format
Data storage:
22 days using 1 GB USB memory stick while recording magnetometer at 10 Hz and GPS at 1 Hz.
Weatherproof:
O-ring sealed for operation in the rain and/or 100% humidity
Power:
10 to 36 VDC, 30 Watt or 110-220VAC (50-60Hz)
Shipping
Contents
Dimensions (L x W x H)
Weight
Case 1
Backpack, Dogcatcher data logger, Tablet, Batteries, Cables, DGPS
81cm x 52cm x 33cm
27kg
Case 2
Sensors
85cm x 28cm x 35cm
15kg
Shipping Notes:
Sensors must be in case during transit.