GT-40

from Georadis
The GT-40 gamma ray spectrometer is a versatile tool which incorporates specific features which enable it to be used as part of field surveys and follow up laboratory measurements.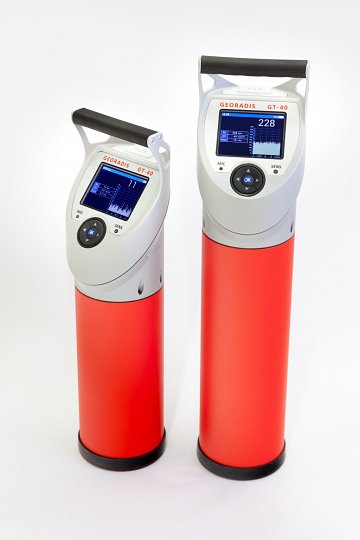 The 8GB memory permits the calibration spectra to be stored to memory, meaning the operator can apply any standard coefficients and the instrument will calibrate itself. Calibrations can be defined for elements or compounds. By having the full calibration spectra stored to memory it is possible to isolate components within a compound, for instance the ratio of U:Ra. Up to 6 different calibration routines can be stored to memory and any user defined SI unit can be specified.
The GT-40 includes the ability to implement a local background reading for isolating counts from a particular sample. This function can be enhanced by fitting the Pb collimator (GT40S Shielded) which makes the system ideal for laboratory use. A laboratory stand will be available shortly which houses the instrument to improve measurement repeatability.
The Pb collimator can be removed with easy for use survey mode. A built in GPS module allows the operator to integrate geospatial positions without the inconvenience of a second instrument. Field observations can be recorded and stored along with each measurement using the inbuilt voice recorder.
Inbuilt Wifi enables the GT-40 to be controlled remotely using the freely available GeoMon software. The Wifi also enables Georadis to service the instrument remotely.
The instrument can be fitted with a 104cm3 BGO detector or a 104cm3 NaI detector. An optional 345cm3 NaI detector can also be supplied but the Pb collimator is not available with this particular detector.
Applications
Exploration for Uranium, Thorium and other associated REEs.
Geophysical Research.
Geological Mapping.
Baseline surveying.
Core logging.
Classification of building material.
Radon risk assessment.
Environmental monitoring.
Surface Contamination surveys.
Monitoring waste disposal sites
Product Dimensions
| Physical | Dimensions (L x W x H) | Weight |
| --- | --- | --- |
| GT-40 (instrument only) | 12cm x 12cm x 33.5cm | 9kg |
Technical Specifications
Detectors::
GT-40: NaI(Tl 76 x 76 mm, 345 cm³, with bi-alkali PMT.
GT-40: S BGO or NaI, 51 x 51 mm, 104 cm³,with bi-alkali PMT, Shielded with 25 mm lead.
Memory:
Minimum of 2000 survey stations with full 1024 channel spectrum, position and voice recording.
Control:
5 button control
Data Input/Output:
USB and Bluetooth.
Power Supply:
Rechargeable Li-Ion rechargeable battery For up to 10hours operation.
Operating Temperature:
-10 °C to +50 °C
Internal GPS Accuracy:
2.0m
Internal GPS Receiver Satellite Accessibility:
SBAS (WAAS, EGNOS, MSAS)
Shipping
Contents
Dimensions (L x W x H)
Weight
Case1
GT-40S with Collimator, cables etc...
50cm x 40cm x 30cm
15kg
Data Sheet
Literature
Checklists