IPG800 Downhole Source

from Geotomagraphie
The IPG800 is a lightweight portable downhole source designed to operate the BIS-SH at up to depths of 60m, ideal for most ground engineering projects. The seismic signals are highly repeatable. The source works in dry or water filled boreholes and can be used in vertical or horizontal boreholes. Energy released by the IPG800 discharges through a system of coupled coils. They generate a mechanical impact to the borehole wall that releases seismic waves.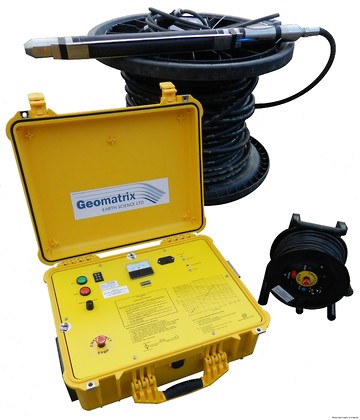 The borehole source is coupled to the borehole wall by a pneumatic clamping system (inflatable bladder). The orientation of the source is controlled from surface by a torsionally stiff hose.
Powered from 2 x 12V batteries the source is extremely portable and can be operated in environments where it is not desirable to run a generator.
Product Dimensions
| Physical | Dimensions (L x W x H) | Weight |
| --- | --- | --- |
| IPG800 Downhole Source (instrument only) | 40cm x 30cm x 25cm | 10kg |
Technical Specifications
| | |
| --- | --- |
| Generated wave types: | SH/P |
| Signal frequencies: | Up to 4 kHz (depending on geology and borehole distance) |
| Operational depth: | Up to 60 m |
| Source length: | 880 mm |
| Source diameter: | 65 mm |
| Source weight: | 8.5 kg |
| Cable weight per metre: | 665 g |
| Borehole diameter: | 75 - 100 mm (or larger if spacers are used) |
| Clamping system: | Inflatable bladder |
| Orientation: | Torsionally stiff hose |
| Depth indicator: | Cable marking every 2 m |
Shipping
Contents
Dimensions (L x W x H)
Weight
Case1
IPG800 and cables
70cm x 50cm x 40cm
35kg
Reel 1
BIS-SH (SH-Wave source)
70cm x 70cm x 47cm
45kg
Shipping Notes:
All equipment will be shipped on a pallet (aprox 145cmx120cmx100cm 150kg)