GeoEel- Solid

from Geometrics
Geometrics SolidTM GeoEel's elegant design offers superior performance for high resolution 2D seismic surveys.
The smallest-diameter solid design available (only 44.5 mm), the GeoEel Solid™ is easy to deploy, easy to transport and can be shipped by air.
Separate 8-channel modules coupled with a unique slim active section design yield ultra-low towing noise levels (under 4 microbar) and are largely immune to electronic interference, leakage and ground loops that plague analogue streamers. Communicates via 100 mbs Ethernet to the Geometrics CNT-2 controller, running field-proven software that is used on over 70 installations worldwide.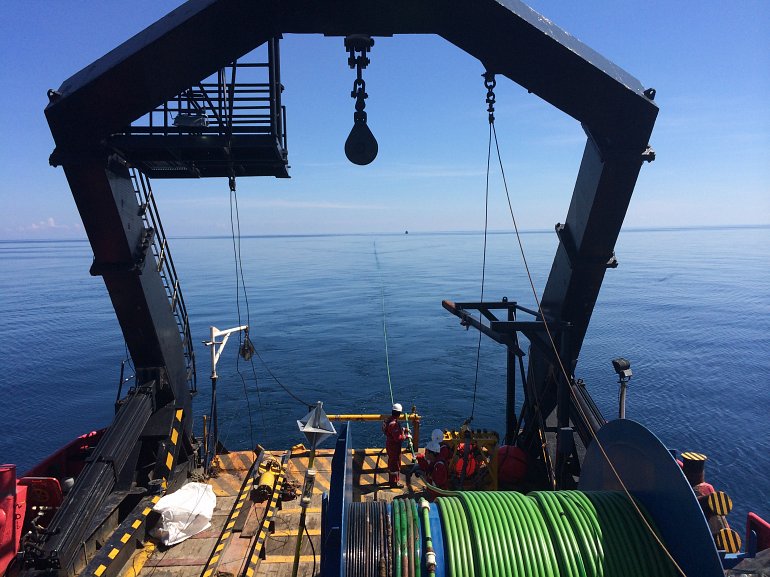 Advantages of solid streamers;
No bulge wave transmission along the length of the streamer.
Up to 6 hydrophones per group.
Offers higher resolution compared to competitors streamers due to the tight hydrophone group spacing.
Low noise compared to fluid filled streamers.
Extremely rugged and easy to handle.
Environmentally friendly and non-flammable. Manufactured from solid polyurethane the GeoEel SolidTM presents no risk of leaking oil and can be shipped via air-freight.
Product Dimensions
| Physical | Dimensions (L x W x H) | Weight |
| --- | --- | --- |
| GeoEel- Solid (instrument only) | variable x 44.5mm x 44.5mm | 156kg/100m |
Technical Specifications
A/D Converter Modules:
Channels:
8 per A/D module.
Sample intervals:
1/8, 1/4, 1/2, 1, 2 ms.
Bandwidth:
5 Hz to 3 KHz.
Programmable gain:
0 dB, 8 dB, 18 dB, 30 dB, 42 dB.
Anti-alias filter:
Set by sample interval, down 135 dB at stop-band.
Maximum input range:
1.59Vrms
Resolution:
24 bits including sign.
Dynamic range:
120dB Typical @ 1ms.
Record length:
Up to 32,768 samples.
Continuous recording mode:
Available, with GPS synchronization.
QC tests:
Leakage and capacitance of hydrophone elements, noise, offset, harmonic distortion and gain similarity.
Hydrophone Sections:
Number of channels:
8 per section.
Group inverval:
1.5625, 3.125, 6.25, or 12.5m.
Hydrophones per group:
4-6 (typical; up to 12 upon request).
Group sensitivity:
-194 + 1.5 dB re 1 V/mPa.
Low cut filter:
10 + 0.5 Hz (100 and 50m).
15 + 1 Hz (25m and 12.5m)
Hydrophone type:
Proprietary polymer.
Strain member:
Zylon
Working load:
635 kg.
Minimum bend radius:
1 m.