CX12 GPR controller

from Mala
The Mala CX12 is a comprehensive high frequency Ground Penetrating Radar (GPR) controller specifically designed to help assess the integrity of standing structures.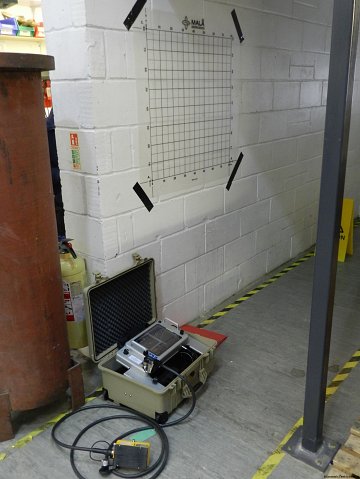 The CX12 can be deployed with any of the Mala high frequency shielded bowtie antenna (1.2, 1.6 & 2.4GHz) and can be equipped with a complimentary 50/60Hz EM sensor for detecting live mains cables. As part the Geomatrix Earth Science rental pool we can offer a CX12 system with 2.3GHz antenna which suits both structural engineering and historic building management projects.
Features
Simple and quick deployment. The rugged compact design leads itself to be deployed in small difficult spaces or on scaffolding.
2D, 3D/Grid and Object Mapper projects.
Intuitive semi automated data acquisition and QC/QA software. Including hyperbola diffraction tool for velocity analysis and time/depth slicing.
Automatic time zero adjustment.
One turn/push button operation.
Download and export data to third party software for further data analysis.
Remote operation using buttons on the antenna grip.
USB data download.
Product Dimensions
| Physical | Dimensions (L x W x H) | Weight |
| --- | --- | --- |
| CX12 GPR controller (instrument only) | 56cm x 46cm x 26cm | 17kg |
Technical Specifications
| | |
| --- | --- |
| Recording Channels: | 1. |
| Antenna Rage: | 1.2, 1.6 or 2.4GHz. only the 2.4GHz antenna is available for rental. |
| Pulse Repetition frequency: | 100kHz. |
| Data bits: | 16. |
| Sampling frequency: | 6-700 GHz. |
| Acquisition mode: | Distance/time/manual. |
| Operating time: | 3 hours per battery or indefinite when running on main supply. |
| Operating temperature: | -20 to 50ºC |
| EM Option: | 50/60Hz sensor (sensitivity 300uV, 14 bits). Not available for rental. |
Shipping
Contents
Dimensions (L x W x H)
Weight
Case1
CX12, 2.3GHz antenna and cables.
56cm x 46cm x 26cm
17kg
Cardboard tube
Transparent grid plans.
104cm x 9cm x 9cm
1kg
Cardboard box
Telscopic handle
82cm x 17cm x 17cm
1.2kg