QL40-OBI-2G

from Mt Sopris
The QL40-OBI tool is supplied as a bottom sub of the Quick Link (QL) product line. It can either be combined with other QL40 tools to form a tool string or it can be run as a stand-alone tool. The OBI40 is the standalone- non stackable- version.

Designed to complement the ALT Acoustic Televiewers (ABI) in dry well situations, or in clear water, the tool operates with the ALTLogger and MATRIX logging systems. They can be run on any standard wireline (mono, 4 or 7 conductor, coax). It includes a high precision deviation sensor (APS544) allowing accurate orientation of the image and borehole. The OBI incorporates a high resolution, high sensitivity CCD digital camera with matching Pentax optics. The Q40OBI is commonly deployed as part of fracture detection and evaluation, detection of thin beds, bedding dip, Lithological characterisation and to determine true colour rock fabric.
Through including a precise orientation package, consisting of a 3-axis magnetometer and 3-axis accelerometer, it is possible to orientate images, and thus bedding plains and fractures, to the correct azimuth.
Applications
Detailed and oriented structural information
Reference for core orientation
Fracture detection and evaluation
Breakout analysis
Detection of thin beds
Determination of bedding dip
Lithology and mineralogical characterisation
Casing inspection
WellCAD Image & Structure Interpretation (ISI) Workspace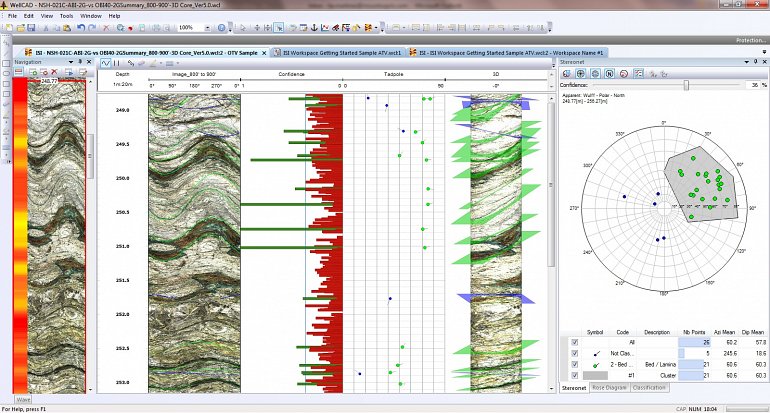 Operating Conditions
W - Water √
M - Mud
D- Dry √
S - Steel √
P - PVC Borehole √
UC- Uncased √
*Centralization required and any water in the borehole must be clear
Product Dimensions
| Physical | Dimensions (L x W x H) | Weight |
| --- | --- | --- |
| QL40-OBI-2G (instrument only) | 147cm x 4.2cm x 4.2cm | 5.3kg |
Technical Specifications
| | |
| --- | --- |
| Optical Sensor: | 1/3″ high sensitivity CMOS digital image sensor. |
| Azimuthal Resolution: | 120, 180, 360, 600, 900, 1800 pixels. |
| Vertical Resolution: | User definable minimum 1 mm. Function of depth encoder resolution. |
| Color Resolution: | 24 bits RGB true colors. |
| Responsivity: | 5.48 V/lux-sec |
| Light Source: | High efficiency LEDs. |
| Color Temperature: | 5600 K. |
| Light Intensity: | 750 lm. |
| Color Rendering Index: | 80% |
| Power Max: | 5.60 W. |
| Orientation Sensor: | APS 544 – 3-Axis Magnetometer and Accelerometer. |
| Inclination Accuracy: | ± 0.5 º |
| Azimuth Accuracy: | ± 1.2 º. |
| Max. Tempture: | 70ºC |
| Max. Pressure: | 200 bar. |
Shipping
Contents
Dimensions (L x W x H)
Weight
Case1
Optical Televiewer
215cm x 32cm x 16cm
30kg