PEG40

from RT Clark
The Propelled Energy Generator (PEG40) is a mobile high energy seismic sources for many near surface geophysical engineering applications. Its robust simple design and repeatable signature make the source ideal for large near surface refraction spreads and Multi-channel Analyses of Surface Waves (MASW).
The system uses a 12V DC motor, chain and sprocket to draw the weight, under load from an elastic belt, to the firing position. As the weight reaches its firing hight the weight is realest and accelerated to the ground. The motor is controlled by a simple two way deadman remote control. A standard Pezo electric hammer trigger can be mounted onto the hammer plate to trigger the seismograph.
Designed to be mounted on the rear of a vehicle via a standard 5cm square tow hitch (US standard), adapters can be supplied for mounting the source onto other tow hitches. Having a vehicle mounted source is convenient for conducting continuous 2D MASW roll-a-long spreads with a Landstreamer. Geomatrix are currently able to supply two such systems for rental.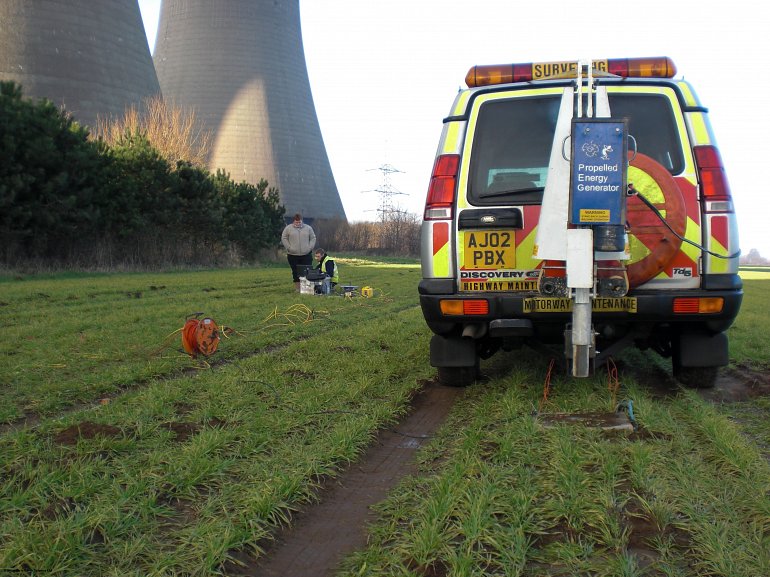 Product Dimensions
| Physical | Dimensions (L x W x H) | Weight |
| --- | --- | --- |
| PEG40 (instrument only) | 75cm x 60cm x 140m | 195kg |
Technical Specifications
| | |
| --- | --- |
| Hammer Mass: | 40kg |
| Hammer Drop Height: | up to 45 cm. |
| Cycle Time: | 3 to 5 Seconds. |
| Seimograph Trigger: | Standard Pezo electric impact trigger (Hammer trigger). |
| Acceleration medium: | Elastic belt. |
| Motor power: | 12V DC |
| Impact Frequency Band: | 10 - 250 Hz. |
Shipping
Contents
Dimensions (L x W x H)
Weight
Case1
PEG40
173cm x 61cm x 75cm
195kg
Shipping Notes:
The PEG40 must be removed from the vehicle tow hitch for transportation off site.