Bubble Pulser

from Falmouth Scientific
The HMS 620 Bubble Pulser. Marine Seismic source offers a mid frequency wide bandwidth signal for ultra-high resolution marine seismic. Unlike other marine seismic sources the Bubble Pulser offers a very repeatable pulse signature even at high cycle rates, up to 0.125s intervals. High correlation between pulses enables the pulse to be easily stacked, compressed or deconvolved during processing. In shallow water the high pulse repetition rate can be used to reduce CDP intervals, alternatively additional shots can be recorded for stacking. When combined with the Geometrics MicroEel analogue seismic streamer, the Bubble Pulser can resolve strata to 200ms.
The system is light weight and easy to deploy by hand off the back of a small vessel. Due to the unique electromechanical plate design the Bubble Pulser top end power supply can be run on 240VAC or 24VDC, without changing the pulse shape and spectral bandwidth characteristics. The 24VDC power supply is ideal for small survey vessels where running a generator is impractical or presents a health and safety risk. The Bubble Pulser also comes in a dual plate configuration for improved single transmutation into unfavourable sea floor sediments.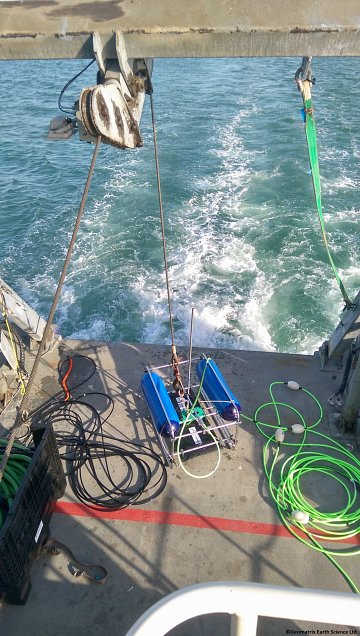 Features
Single and Dual Source Systems.
Do Not Need Heavy Handling or Deployment Equipment.
Perfect system for deploying off of a small vessel by hand.
Compatible with Industry-Standard Data Acquisition Software & Multi-channel Streamers.
Narrow-band 350 - 1000Hz pulse provides good penetration through many sediment types .
Rugged, lightweight transducer platform provides stable operation in adverse sea-state conditions .
Selectable 110 or 220 VAC source of less than 1 KWatt (2 KWatt for Dual Source)
Optional 24 VDC powered system available (two 12V batteries; no generator needed)
The top end power supply offers the ability to toggle between plates to aid monitor pulse stability and frequency spectrum.
User-selectable trigger or external trigger input.
Product Dimensions
| Physical | Dimensions (L x W x H) | Weight |
| --- | --- | --- |
| Bubble Pulser (instrument only) | 105cm x 80cm x 66cm | 45kg single plate, 65kg dual plate |
Technical Specifications
| | |
| --- | --- |
| Source Type: | Electromechanical |
| Frequency Bandwidth: | 350-1000Hz (at 10dB down). |
| Acoustic Source Level: | Approximately 50 Joules (=200 dB ref 1µPa @ 1 metre). |
| Tow Vehicle: | Stainless steel frame, buoyant surface-towed vehicle. |
| Tow Cable: | 50-meter abrasion resistant. |
| Trigger Input: | External key or manual time-based selection. |
| Repetition Rate: | 8 times a second. |
Shipping
Contents
Dimensions (L x W x H)
Weight
Pallet
Dual/Single Plate Bubble Pulser catamaran with 50m tow cable.
120cm x 100cm x 80cm
85kg/65kg
Case1
Top end power supply
65cm x 65cm x 35cm
30kg