Syscal Junior

from Iris Instruments
The Syscal Jr is an all-purpose resistivity imaging and sounding system for environmental applications. The system can be supplied as a standard sounding system capable of recording two measurements simultaneously, perfect for performing offset Wenner sounding arrays. The second recording channel significantly improves data acquisition time when the instrument is fitted with internal switching board for 48 (Switch-48) or 72 (Switch-72) electrodes for Electrical Resistivity Tomography (ERT).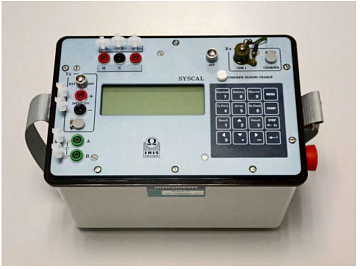 The output current is automatically adjusted (automatic ranging) to optimise the input voltage values and ensure the best measurement quality. The system is designed to automatically perform pre-defined sets of resistivity measurements with roll-along capability.
Compact, easy-to-use and field proof, the Syscal Jr Switch measures both resistivity and chargeability (IP). With a maximum power output of 100W at 400V the Syscal Jr is suitable for most near surface geophysical prospection applications, such as pollution monitoring and mapping, salinity control, depth-to-rock determination and weathered bedrock mapping. In high resistance environments it may be necessary to use the Syscal Jr's bigger bother the Syscal Pro.
Product Dimensions
| Physical | Dimensions (L x W x H) | Weight |
| --- | --- | --- |
| Syscal Junior (instrument only) | 31cm x 21cm x 21cm | 10kg |
Technical Specifications
| | |
| --- | --- |
| Voltage: | Up to 400V |
| Current: | 1.250A |
| Power: | 100W off 12V battery |
| Pulse Duration: | 0.25s, 0.5s, 1s, 2s, 4s, or 8s |
| Channels: | 2 recording channels |
| Input Impedance: | 100Mohm |
| Max Voltage (across recording channels): | 15V |
| Protection: | Up to 1000V |
| Accuracy: | 0.5% |
| Resolution: | 1 microV |
| Readings: | Current, Voltage, standard deviation and 20 IP windows (pre-set or selectable) |
| Stacking: | User selectable stack threshold based off measurement standard deviation. |
| Noise Rejection Routines: | 50 & 60Hz noise rejection. SP linear drift correction. |
| Memory: | 21,000 readings, stored on solid state memory. |
| Temperature: | -20 to +70ºC |
Shipping
Contents
Dimensions (L x W x H)
Weight
Case 1
Syscal Junior
38cm x 30cm x 45cm
21kg
Case 2
Cables and Electrodes for sounding
72cm x 49cm x 40cm
50kg
Shipping Notes:
Contains Gel Cell Batteries
Data Sheet
Literature
Checklists