SCOUT PRO Logger

from Mt Sopris
The SCOUT is the latest generation borehole logger from Mt Sopris and ALT. Designed to the Quick Link (QL) range of sondes the SCOUT is optimised for the latest high performance acoustic and optical televiewers. Compatible with most winches and cable types the SCOUT offers an affordable means of introducing high performance televiewers services to a company portfolio.
Now capable of supporting Geovista and Kuster probe lines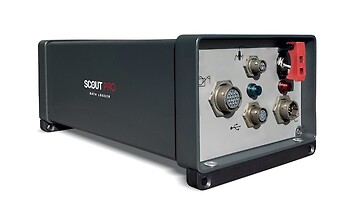 Features
Increased logging speed through ultra high speed USB interface, runs on any PC compatible notebook.
Supports all Mount Sopris and ALT tools with QuickLink (QL) telemetry.
Wireline and winch flexibility-runs on coax, mono-or multi-conductor wireline.
Improved telemetry performance on long single and multi-conductor wirelines when used in conjunction with the latest generation of ALT/MSI tools. New Equalizer and Train processes.
Complete software control using the Logger Suite software. Real Time Data display and printing.
Very easy to use, with graphical user interface, self diagnostic features, and configuration through files. Minimal user input required.
Shaft encoder flexibility – compatible with any 12V or 5V shaft encoder
Robust heavy duty system, fault tolerant.
Preferred solution for customer looking for light weight high performance equipment.
The heart of the graphical user interface is the LoggerSuite dashboard. The operators use the control panel to select and control all system functions, monitor the data acquisition process and observe the logging tool status. The dashboard consists of multiple threads running concurrently, handling specific system tasks simultaneously. The LoggerSuite Dashboard provides access to the following windows :
Depth control
Tool configuration, power control, and advanced tool settings
Telemetry control and tuning
Data sampling record and replay control
System status display
Wireline weight indicator display
Data browser and processor control windows
Browser windows are used for real time data monitoring and offer a wide choice of display and printing options for conventional curves, full wave form sonic traces, acoustical and optical borehole images. A header editor is available to provide sophisticated log headers with graphics. Special processors can be activated and configured for real time processing (acoustic velocity picking, spectral gamma display and stacking). Using the WellCAD Browser add-on module allows a real-time connection to the WellCAD data processing platform enabling the user to apply templates, compare currently logged data with reference / repeat data or run processes. QA / QC tasks, data preprocessing and field interpretation can be executed on incoming data.
Product Dimensions
| Physical | Dimensions (L x W x H) | Weight |
| --- | --- | --- |
| SCOUT PRO Logger (instrument only) | 30cm x 17cm x 11cm | 2.5kg |
Technical Specifications
| | |
| --- | --- |
| Input Voltage: | 90 – 240 VAC, 50 – 60 Hz inverter compatible |
| Tool Power: | Up to 200 V / 300 mA |
| PC Connection: | High speed USB |
| Operating System: | Minimum NT4, XP, VISTA, Win7, Win10 |
| Logging Cable: | Standard single, four, seven conductor and coax |
| Tools / Telemetry: | QuickLink probe line |
| Upgradeability: | User upgradeable firmware |
| Software: | LoggerSuite Software |