Lightning: Seismic Vibrator

from Seismic Mechatronics
The Lightning is an electromagnetic seismic vibrating source ideal for shallow (200m) geological exploration and engineering projects. The electric actuator is positioned within the source plate and can be rotated through 90º in order to generate shear (S) and primary compression (P) waves. Powered from a 48VDC battery bank or 230V power supply the Lightning can be deployed to suit the constraints of the survey area.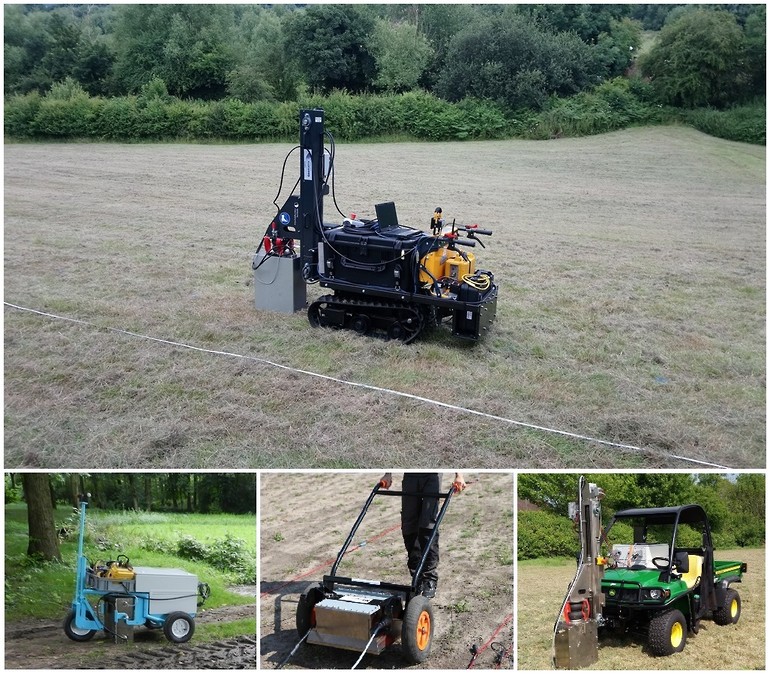 The Lightning is most commonly deployed on an electric wheeled or tracked vehicle to allow access over uneven slippery terrain. The electric tracked vehicle supplied with the Lightning rental system from Geomatrix Earth Science ltd, can be loaded into the back of a high top van fully assembled for easy fast deployment on site. With sufficient battery power for one and half days of field operation the tracked electric vehicle can cope with inclines of up to 15º and access areas which are restricted to vehicles.
For larger area coverage the lightning can be fitted to an electric lift mounted to the front or rear of a vehicle, via a standard tow hitch. When mounted on an ATV the lightning can access even the most remote locations. The lift will also apply addition load to the source plate enhancing ground coupling.
With an electric drive motor and mount for the electronics and battery module the trolley can be manoeuvred by a single operator. The concept has been further developed into a full remote control vehicle deployment for use in mines and tunnels.
For sites constrained by surface furniture (railings, dust bins, lamp posts etc.…) the source plate can be positioned use a hand trolley and loaded with blast.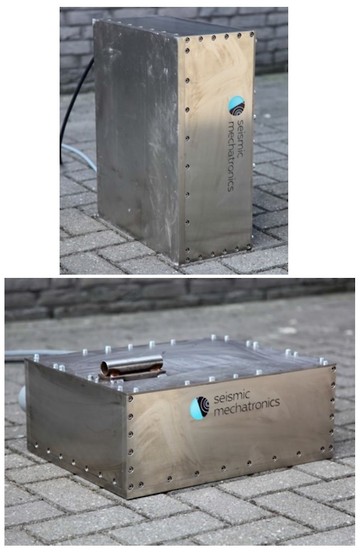 Features
High quality vertical resolution
Wide frequency range
Low THD
P-waves & S-Waves
Easy handling and easy transportation
Highly repeatable signals
Very low maintenance
Very low noise emmision
Watertight up till 20 bar
User specified sweep taper
Reaction Mass and Base plate accelerators
Compatible with all leading seismographs
If 1700N of force wont cut the mustered, multiple lightning systems can be synchronised to double the output force, and the system will still run off a 48VDC supply. The phase and time zero are synchronous to within 8us enabling bespoke portable source arrays for both near surface site investigation and structural dynamics testing.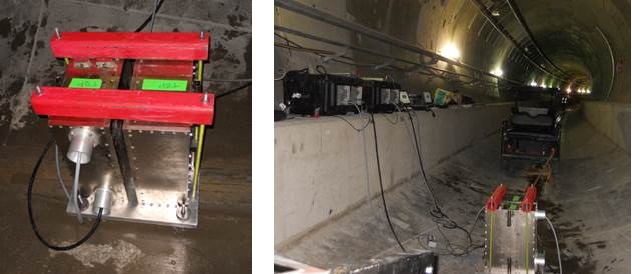 Similar to the image/configuration above, the "Synchro lightning Dual Source" has been used for several projects across Europe. The Profile below shows the results for the Synchro Lightning 2.5-3kN seismic vibrator.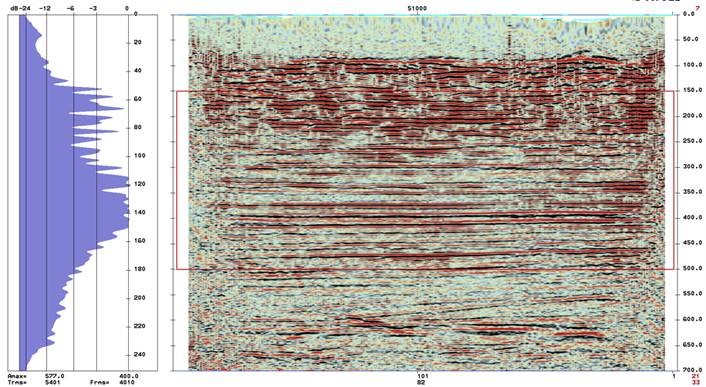 Product Dimensions
| Physical | Dimensions (L x W x H) | Weight |
| --- | --- | --- |
| Lightning: Seismic Vibrator (instrument only) | 0.4m x 0.4m x 0.15m | 90kg |
Technical Specifications
Frequency Range:
1 — 1000Hz (start taper at 1 Hz)
Full Drive Frequency:
8 — 400Hz
Force:
S-wave: 1700N (400lbs)
P-wave: 1200N (270lbs)
Sweep Length:
Unlimited
Signal Penetration:
Approx. 200 m
Power supply:
48VDC battery / 230VAC power
Battery Type:
LiIon, 2160Wh (two required)
Output:
Pilot, Weighted Sum Ground Force
Internal Trigger:
Send/receive 0-5V state change edge
External Trigger Requirements:
0-5V or 5-0V state change
Communication:
Network (TCPIP)
Safety Interlocks:
- Mass Motion Range
- Winch Motor Voltage and Current draw
- Electronics Temperature
Deployment:
- Manual trolley
- Vehicle lift (mounts on tow point)
- ATV with vehicle lift
- Electric tracked vehicle
Shipping
Contents
Dimensions (L x W x H)
Weight
Case1
Vibrator
52cm x 42cm x 21cm
90kg or 150kg
Case2
Control Box
84cm x 55cm x 40cm
35kg
Case3
Vehicle lift
141cm x 40cm x 23cm
90kg
Case4
Trolley (de-assembled)
103cm x 55cm x 38cm
25kg
Case 5
Battery Box
60cm x 60cm x 23cm
130kg
Shipping Notes:
Items will be combined onto a Pallet for shipping (100x120x155cm) 500kg. Forklift or vehicle with tailgate lift required for loading and unloading.