Kawasaki Mule added to rental pool
28 June 2009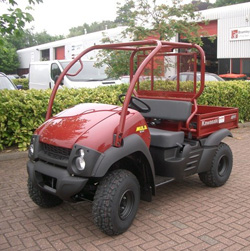 Utility 4x4 off road vehicle, can be used for pulling the GEEP or mounting the PEG-40 weight drop or simply used as an off-road pick up truck to increase your speed of moving equipment around on site. Thus saving you time and money.
The rear tray can be used for winding cables in, carrying cable reels or other heavy items quickly and safely around the site.
The 2 x 12VDC power outputs available on the Mule for powering lap tops or other equipment. Special terms and conditions of hire apply.