Intelligent 2500m Winch developed by Mount Sopris
12 May 2018
Not only does the IWA increase the range of our best-in-class winches, but it also sets new standards for ease of use, safety, power, compactness, and durability.
Featuring an intuitive touchscreen interface, all winch settings and system diagnostics are shown and controlled through the weatherproof membrane touchscreen. The interface user-friendly, and the digital control and programming of the IWA provides the operator with better control and unique safety features, including the following settings: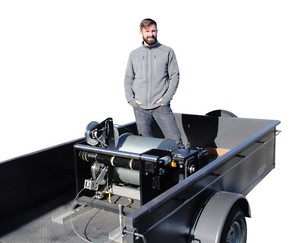 Maximum speed control of the winchIWA winch touch-screen display
Wireline acceleration safeguard
Depth alarms and automatic winch braking
Adjustable tension shut-off limits
Level-wind calibration
System diagnostics
PC interface to permit remote support and control
On top of its intelligence, the IWA is also brawny. This winch has a 6 HP servo motor that can operate at speeds over 55 meters/minute (180 feet/min) and lift the heaviest tool stack with ease. Being the strongest winch in its class doesn't mean the IWA is bulky and cumbersome. The IWA has a very small footprint. The completely redesigned level-wind assembly keeps the winch footprint at just 1.1 x 0.9 x 0.8 meters (45 x 37 x 32 inches), only slightly larger than our 2 HP WFA winch.