The Scintrex CG5 Autograv has been the leading relative gravity meter for commercial mineral exploration and ground engineering studies for over a decade. In that time we have developed robust test procedures to ensure the instruments are operating within manufacturers specifications. It is our policy that all CG5s are setup to record data when they are not in service. This allows us to analyse the noise floor of each instrument and manually calculate the drift correction.
On returning to work after the new year bank holiday the data from all CG5s -which were not out on rental- was downloaded from the instruments. On analysing the data we noticed a significant tear in the measured gravitational acceleration at exactly 11:59pm on the 31/12/2016. The amplitude of the tear varied for each instrument, but the tear is always positive. The building was empty at the time, and the tilt values showed no environmental event which would have caused such a DC shift in the data. The measurement stability did not change after the tear event. The tear was present on all instruments.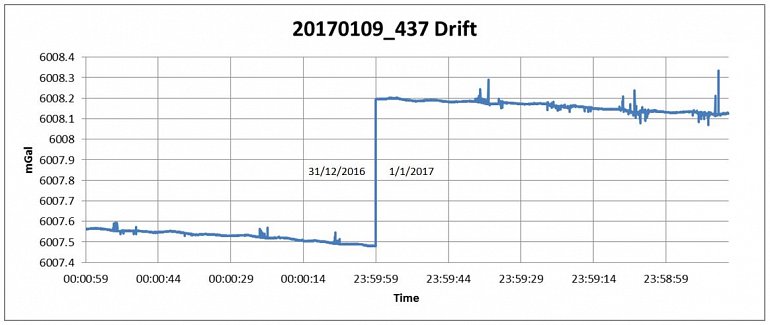 Through further analysis we deduced the tear was caused by the new tide correction modal which took effect on the 1/1/2017. Scintrex corroborated our findings. Although the tear has not affected the performance of the instruments, the tear was only discovered because we analyse the data before perform a manual drift correction. Those who use the automated drift correction might find the new drift value is significantly different from the previous value.
Action to be taken:
If the CG5 was set to perform an automatic drift correction spanning the dates of 31/12/2016 and the 1/1/2017 we suggest the new correction is disregarded and the instrument is placed by on drift correction for a further 24 hours.
If the instrument was set up for a manual drift correction the operator can calculate the new drift correction from measurements recorded after 1/1/2017. The performance of the instrument will not be affected.
For further information please feel free to contact us.