RadExPro now includes Broadband Processing Tools
19 February 2016
The SharpSeis Adaptive Deghosting module available in RadExPro utilize a stabilized approximate solution for the deghosting operator, applied to a seismic trace in both forward and reversed time. The resulting two traces (primary wavefield without the ghost, and ghost wavefield without the primary) are, then, combined in a non-linear manner in order to maximize the signal and suppress the noise trains, stabilizing the result even further. The optimum ghost delay is estimated adaptively to the data within a sliding window, to ensure the best possible match. This results in sharp crystal-clear seismic images with high signal-to-noise ratio. Some examples are shown below.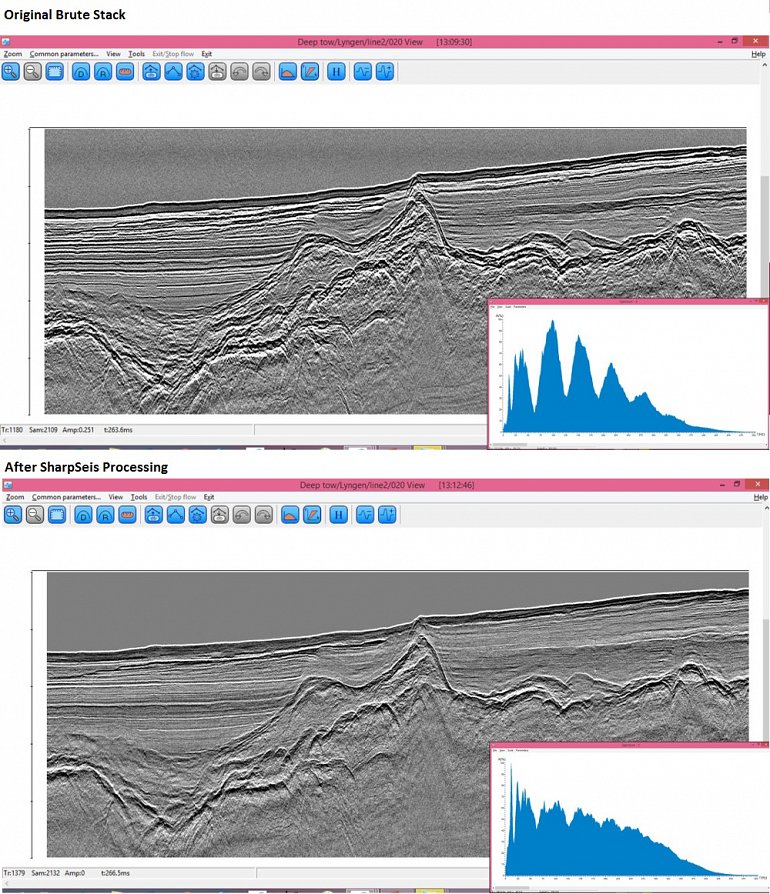 In typical marine seismic acquisition, a streamer towed on a given depth records not only an up-going wavefield reflected from the subsurface, but also a down-going field reflected from the sea surface and known as ghost wavefield. Destructive interference of the up-going and the ghost wavefields creates a set of notch frequencies in the recorded spectrum.
The first notch always appears at zero frequency and acts as a high-pass filter suppressing low frequencies, with the slope of the filter dependant on the streamer tow depth. The greater is the tow depth, the more low frequencies are registered in the spectrum.
However, the frequencies of the second and further notches also depend on the streamer tow depth - the greater it is, the lower are the notch frequencies. Since useful bandwidth is commonly limited by the first and the second notch frequencies, towing the streamer deeper, though increases low frequencies, at the same time limits the higher frequencies making the band narrower and compromising the resolution.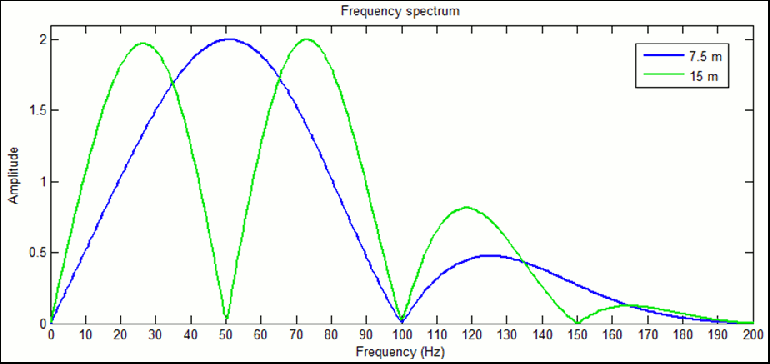 Should the ghost wavefield be removed, this would have both boosted up the low frequencies and cured the notches at high frequencies, thus recovering the full broadband data. However, the problem is that the straightforward analytical deghosting solution is highly unstable and for this reason can hardly be explicitly implemented in any digital processing system.
A number of alternative approaches to acquiring broadband data have been developed instead, involving, along with the data processing, some specific equipment and acquisition techniques, such as dual sensor (combined hydrophone and geophone), over-under (two streamers towed at different depths), variable depth (one streamer is towed in a tilted position). All these approaches, though do produce good data, have one and the same big problem: they make data acquisition complicated and expensive. They also are not applicable to the old data - if one wants it broadband, the only solution is to acquire a new survey.
For further information please contact sales@geomatrix.co.uk.